By Mohammed Jamjoom
CNN





BAGHDAD, Iraq (CNN) -- From the outside, it may not seem like Iraqis have much to laugh about. But many of them are tuning in to a popular new TV talent show, "Comedy Star," that's got viewers in stitches.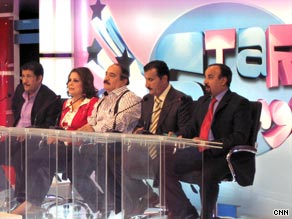 The "Comedy Star" judging panel is made up of five of the funniest comedians in Iraq including Jassim Sharraf, who came up with the concept.
"Comedy Star" is the brainchild of Jassim Sharraf, one of Iraq's best-loved funnymen. Sharraf, who also serves as one of the show's judges, says he came up with idea because he got tired of TV talent shows never featuring any comedians.
"I saw this show called 'Iraq Star.' In that show, they presented only singers," Sharraf told CNN. "As a comedy actor, I started to ask, 'Why are only singers being presented? Why not actors too?'"
Sharraf took the concept to Baghdad-based Al-Rasheed TV, and the show hit the airwaves a few months later.
The competition is open to all, including women. From slapstick to standup to satire, contestants can do whatever they want, as long as they get laughs.
But, whether their audition is based on dialogue, costumes or pratfalls, they are performing in front of a tough crowd -- a panel of five of the funniest comedians in Iraq. Watch 'Comedy Star' auditions

23-year-old Walid Sabbar drove six hours for his shot at stardom, and says many other aspiring comedians are doing the same.
"People are coming from the West, from the North, from the South," said Walid. "All of us are coming and meeting up in this simple studio for this chance."
Walid is honored to be able to perform in front of his idols.
"[They] are like our comedy teachers," he told CNN. "I've watched their shows and seen their plays. I'm a huge fan and I can't even begin to describe my feelings about what it's like being here today."
Walid's routine made fun of Iraqi newscasters. He didn't make it to the next round, but still had a good time.
Don't Miss
Comedy routines range from physical to topical. Like a recent political sketch in which two performers presented a scene mocking the country's upcoming national elections.
While a campaign worker tries to convince an Iraqi citizen to cast a ballot for a specific candidate, the citizen decides he wants something in return for his vote. By the end of the skit, the campaign worker is stripped of the coat off his back and the shoes from his feet. The citizen takes his new coat and shoes and goes to vote.
This comic duo advanced to the next round and will be among the teams vying for the ultimate prize: a new car and a part in a TV special.
For Judge Ihsan Daadoush, the show is about more than just looking for laughs.
"We felt and saw that the number of comic actors in Iraq started to decrease," he told CNN. "So, this came along. It keeps the craft going and gives opportunities for the actors already here and for the up-and-comers."
Inside the Middle East
Bringing you the latest news on politics, pop culture and modern life in the Middle East.


While "Comedy Star" looks similar to Western TV talent shows, its judges don't get nasty with the contestants to increase the entertainment value.
This panel tries to keep the atmosphere positive -- even for those voted off -- offering constructive criticism and insisting it's their duty to encourage more comics and more comedy in Iraq.

Sharraf knows how important a good laugh can be and believes that after the heartbreak of war, it's time for Iraq to revel in the unifying experience of laughter.
"The most beautiful thing in this life is a smile," he said. "And you're thankful if you've been able to make somebody smile."
E-mail to a friend