(CNN) -- United Nations inspectors will visit Iran's recently disclosed nuclear power plant on October 25, the head of the International Atomic Energy Agency announced Sunday from Tehran, Iran.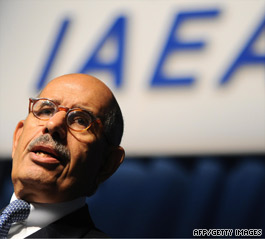 IAEA Director General Mohamed ElBaradei said Sunday, "We need transparency on the part of Iran."
"It is important for us to send out inspectors to do comprehensive verification ... to assure ourselves that it is ... fit for peaceful purposes," Mohamed ElBaradei said.
Iran sent shock waves through the international community recently when Tehran wrote a letter to the IAEA revealing the existence of a nuclear enrichment facility near the city of Qom.
Iran said its nuclear program is only for peaceful purposes, but the United States, among others, fears the country aims to build nuclear weapons.

Watch ElBaradei announce the October 25 visit »
The New York Times reported Sunday that IAEA experts "have concluded in a confidential analysis that Iran has acquired 'sufficient information to be able to design and produce a workable' atom bomb."
Citing senior European officials, the report said that the conclusions are tentative, but "go well beyond the public positions taken by several governments, including the United States."

Watch can the West live with a nuclear Iran? »
CNN could not immediately confirm the Times' report.
Don't Miss
Speaking to CNN, U.S. national security adviser Jim Jones rejected the idea that Iran may be closer to a bomb than the U.S. government has said.
"No, we stand by the reports that we've put out," Jones, a retired Marine Corps general, said on CNN's "State of the Union." He added that there will be "a lot of speculation, one way or the other."
Susan Rice, U.S. ambassador to the United Nations, said, "I'm not going to get into characterizing the substance of a confidential report or our own intelligence. But suffice it to say, our whole approach is predicated on an urgent need to prevent Iran from obtaining a nuclear weapons capacity."
Speaking to NBC's "Meet the Press," she added, "There are various assessments and they don't all align."
But, Rice said, key players are on the same page about what to do.
"This is a very serious process where we are together aligned with the P5+1 -- that's Russia, China, France, Britain, Germany and the United States -- presenting Iran with a very stark choice: Either they give up their nuclear weapons program conclusively to our satisfaction, or they will face additional pressure," Rice said, adding: "We're very much in a period of intense negotiations now."
And while "Russia and China have resisted sanctions," Rice said, "we are united in presenting this choice to Iran."
Sen. Lindsey Graham, R-South Carolina, said the United States should take action based on the new IAEA report cited by the Times.
"I think one of the things that we'd want to do is challenge the Iranians to give us some access to what's alleged in this report," he told "FOX News Sunday."
Sen. Evan Bayh, D-Indiana, told the same program that "it shows that we need to bring a real sense of urgency to this issue. The clock is running, and the Iranians will have a nuclear capability before long if something doesn't happen to change their minds."
Iran drew a different picture.
"The issue of a nuclear Iran" for energy purposes "from an inspections standpoint is completely resolved," Iran's nuclear chief Ali Akbar Salehi said Sunday, according to semi-official news agency ISNA.
"Very good actions towards the future cooperation between Iran and the agency [IAEA] have taken place, which will culminate in assuring fuel for the Tehran research reactor," Salehi was quoted as saying.
ElBaradei, meanwhile, urged Iran to submit to more comprehensive inspections because its nuclear program is so advanced.
"It would help the agency to have Iran subscribing again to our regulations that allow us to be informed of the construction of nuclear facilities as early as possible," he said.
He also pressed Iran to give the IAEA "the authority for more information, for access to more locations that would enable the agency to provide assurances not only about declared nuclear activity in Iran but also about possible undeclared activities."
And ElBaradei said progress was being made on Iran's request for enriched uranium to help treat cancer patients.
Iran will sit down with the United States, Russia and France on October 19 at IAEA headquarters in Vienna, Austria, to discuss that request, he said.
A deal on that front could be important because it could reduce the amount of nuclear fuel Iran has to make a bomb.
Under the agreement, Iranian low-enriched uranium -- not weapons-grade material -- would be sent abroad and enriched further before being sent back for use in Iranian medical research, ElBaradei said.
European Union foreign policy chief Javier Solana announced the outlines of that deal on Thursday.

ElBaradei was cautiously optimistic in his remarks Sunday, praising last week's meeting between Iran and world powers about the country's nuclear program.
"We need transparency on the part of Iran," he said. "We need cooperation on the part of the international community. We are at a critical moment. We are shifting gears from confrontation into transparency and cooperation."
E-mail to a friend

All About Mohamed ElBaradei • Susan Rice • Nuclear Proliferation