THIS MONTH ON IME -- Stan Grant hosts this month's edition of Inside the Middle East from Abu Dhabi where he highlights some of the city's most prominent landmarks.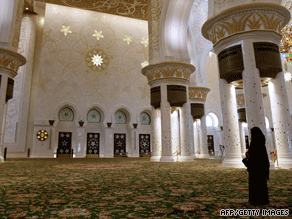 A woman stands inside Abu Dhabi's landmark Sheikh Zayed mosque, the third largest mosque in the world.
We take a special look inside Abu Dhabi's iconic Sheikh Zayed Al-Nahyan Mosque, one of the largest in the world.
With over a thousand columns and 80 domes, this architectural marvel incorporates materials and styles from all over the world -- taking thirteen years to build so far, and is yet to be completed.
MY MIDDLE EAST -- As Abu Dhabi gears up to host the final Formula One race of the Grand Prix season on November 1st, we take a sneak preview of the high-tech Yas Marina Circuit
YMC Spokesman and sports-lover Hamed Alharthi gives his tour of the city's newest landmark.
Inside the Middle East
Bringing you the latest news on politics, pop culture and modern life in the Middle East.


HEALTH SPECIAL -- In a special segment marking Breast Cancer awareness month, we tackle the social issues and cultural taboos surrounding the disease.
Stan Grant speaks to a doctor of family medicine at Abu Dhabi's Sheikh Khalifa Medical City who organizes survivor support groups.
Paula Hancocks reports from Ramallah on an innovative approach of spreading awareness and meets the creators of the first Palestinian 3-D animation film. "Fatenah" is based on the true story of a 28-yr-old Gaza woman fighting breast cancer and the ignorance and bureaucracy on both sides of the Gaza-Israeli border.
YOUR IME DIARY -- Our cameras were there for the inauguration of Saudi Arabia's new co-educational research and academic hub, the King Abdullah University for Science and Technology (KAUST). Architect Bob O'Dell, one of the principal designers, shows us around the new campus at Thuwal -- 80 km north of Jeddah.
Inside the Middle East airs the first week of every month on the following days and times:
Wednesdays: 0830, 1630
Saturdays: 0730, 1700
Sundays: 0530, 1730
Mondays: 0300
E-mail to a friend