UNITED NATIONS (CNN) -- Palestinian Authority President Mahmoud Abbas on Friday accused Israel of blocking steps toward peace, just a day after Israel's prime minister defended a military offensive in Gaza.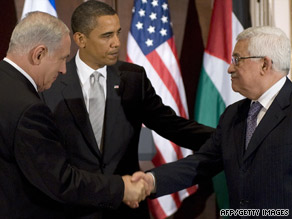 From left, Israeli President Benjamin Netanyahu, President Obama and PA President Mahmoud Abbas.
Delivering an address to the U.N. General Assembly, Abbas also said President Obama has given the Palestinian people "much hope."
Citing efforts by the United States and other nations to bring peace to the region, Abbas said, "all of these active efforts and initiatives, which have been welcomed and supported by us and by the Arab states, are, however, confronted with Israeli intransigence, which refuses to adhere to the requirements for relaunching the peace process."
"How is it conceivable that negotiations can be held on the borders and on Jerusalem at the same time that Israeli bulldozers are working to change the reality on the ground with the aim of creating a new reality and imposing borders as Israel desires?"
He slammed Israel's "unjust siege on the Gaza strip," condemning the three-week military offensive earlier this year that left "thousands of casualties among civilians."
Abbas spoke a day after Israeli Prime Minister Benjamin Netanyahu, during his address, condemned the U.N. Human Rights Council's "biased and unjust" report on Israel's Gaza offensive -- which he said was "falsely equating terrorists with those they targeted."
Netanyahu said Hamas militants fired rockets into Israel from Gaza "for eight long years" but a resolution hadn't passed condemning those attacks.
He said Israel hoped it would get peace when it withdrew from Gaza in 2005.
As he called attention to the militants' strikes on Israel, Netanyahu said under the "twisted standards" of the U.N. Human Rights Council, U.S. President Franklin Roosevelt and British Prime Minister Winston Churchill would have been "dragged ... to the dock as war criminals."
Don't Miss
"Faced with an enemy committing a double war crime, of firing on civilians, while hiding behind civilians, Israel sought to conduct surgical strikes directed against the rocket launchers themselves. ... Never has a country gone to such extraordinary lengths to remove the enemy's civilian population from harm's way."
Abbas, in his remarks, did not mention Israeli victims of Palestinian terrorist attacks.
Netanyahu, noting the United Nations in 1947 voted to establish a Jewish and an Arab state, said the "Arabs rejected it and invaded the embryonic Jewish state with the hopes of annihilating it."

Watch Netanyahu address peace, settlements »
"We asked the Palestinians to finally do what they refused to do for 62 years, say yes to a Jewish state. As simple, as clear, as elementary as that, just as we are asked to recognize a nation-state for the Palestinian people. The Palestinians must be asked to recognize the nation-state of the Jewish people. The Jewish people are not foreign conquerors in the land of Israel. It is the land of our forefathers."
Abbas referred to the events of 1948 using the Arab term "the catastrophe," and said the United Nations "is a living witness" to hundreds of resolutions calling on Israel to take certain actions "that have not been implemented."

Watch Abbas speak to U.N. General Assembly »
He slammed "Israel's colonial occupation."
"President Barack Obama has given much hope to our people and the peoples of the region when he announced his vision of a peace agreement on the basis of a two-state solution and the cessation of all settlement activities."

Watch Obama: 'We have to find a way forward' »
He said he "would like to express appreciation" for Obama's U.N. speech earlier in the week "in which he affirmed the necessity for ending the occupation that began in 1967 and the illegitimacy of the settlements."

Abbas is a leader of Fatah, which controls the West Bank. Hamas -- a rival political party listed by the United States and Israel as a terrorist organization -- controls Gaza.
Though Abbas did not mention Hamas by name, he referred to efforts "to end the ongoing coup in the Gaza strip and restore our national unity."
E-mail to a friend

All About Barack Obama • Benjamin Netanyahu • Mahmoud Abbas