(CNN) -- The families of three American hikers held in Iran are "greatly encouraged" by Iranian President Mahmoud Amhadinejad's recent public comments on the issue, the brother of one hiker told CNN.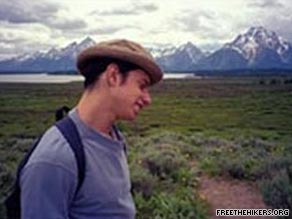 Josh Fattal's relatives say they haven't had contact with him since he was detained in Iran.
"We are encouraged by the recent statements of the president that he wants to deal with this matter expeditiously," Alex Fattal, brother of hiker Josh Fattal, said.
Alex Fattal told CNN's "American Morning" that family hasn't had contact with Josh and "we take things day by day."
He said there has been no contact with the three hikers and "that's been extremely difficult."
"We haven't gotten a phone call. We haven't been able to receive a letter, to send a letter," Fattal said. "We're hoping for their quick release."
Josh's mother Laura Fattal said there's no specific information about where they are being held.
Iranian authorities detained Josh Fattal, Shane Bauer and Sarah Shourd after they strayed into Iran in late July while hiking in a part of northern Iraq's Kurdish region.
"Shane, Sarah and Josh were hiking in Iraqi Kurdistan when they were detained and accused of illegal entry. If they strayed across the border into Iran, it can only have been by accident, and it is obviously a matter we regret," their families said in a joint statement Wednesday.
"Our immediate concern now is to know that our children are well," they said, asking to speak to them "without delay."
Ahmadinejad said Tuesday the crossing of the Iranian border by "several American citizens" represented an "illegal entry," an act that is "considered a crime everywhere."
He insisted that he had no control over the case.
"The judiciary handles these cases. The judiciary in Iran is completely independent and no one can interfere with the process of the law and work of the judge," he said in an Associated Press television interview
However, he said, "what I can ask is that the judiciary expedites the process and gives it its full attention ... and basically look at the case with maximum leniency."
The mothers of the the hikers wrote Ahmadinejad a letter asking him to bring their children to New York when he arrived in the United States to address the United Nations General Assembly. He arrived in New York Tuesday night without the hikers.
Nonetheless, Laura Fattal told CNN on Wednesday that "we're very, very encouraged by the compassion of President Ahmadinejad."
Alex Fattal said vigils are being planned throughout the country on September 30, mentioning Los Angeles, California; the Bay Area in California; Philadelphia, Pennsylvania; Boston, Massachusetts; and New York.
"We're very much hoping that those vigils turn into welcome home parties," he said. "That would mark two months in detention. We're hoping and hoping that it doesn't go this long."
Laura Fattal issued "a humanitarian appeal" to Ahmadinejad "that he will continue his compassionate attitude toward our children and that he will release them and bring them to the United States and have us embrace them and be part of all the families."
The Rev. Jesse Jackson said it would be "a great gesture" for Iran to free the hikers.
"Whenever we make really make a strong, public, moral mercy appeal it tends to work. So we're reaching out to the Iranian leadership to please let these three young Americans go," he told CNN Radio.
American Muslim leaders will meet Ahmadinejad on Thursday to seek the release of the hikers, the Council on Islamic-American Relations said Wednesday.
They will deliver a letter to Ahmadinejad from the families of the detained Americans, the group said. It sent a letter of its own to the Iranian leader about a month ago.
The Islamic council also will deliver a letter from the family of former FBI agent Robert Levinson, who has been missing in Iran since 2007.
"We hope that President Ahmadinejad will take this opportunity for a humanitarian gesture to create a more positive atmosphere for constructive dialogue between our two nations by releasing the American detainees," said national board chair Larry Shaw, a North Carolina state senator.
E-mail to a friend

CNN's Alan Silverleib contributed to this report.
All About Iran • Mahmoud Ahmadinejad