(CNN) -- Facetime with Stanley Fischer, Governor, Central Bank of Israel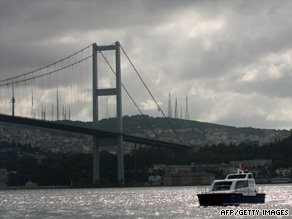 The Bosphorus Bridge in Istanbul. While constructing a tunnel under the Strait engineers discovered ancient Byzantine ruins.
It has been a year since the collapse of U.S. bank Lehman Brothers. The single event that seemed to send the financial world into free fall and sent global stock markets reeling. But one year on, the region's markets are showing some signs of recovery, especially in Israel.
This week MME talks to Stanley Fischer, Governor of Israel's Central Bank about raising interest rates and whether the rate rise was a bit premature.
In focus -- Transcontinental tunnel
Turkey is constructing a subway tunnel under the Bosphorus Strait. In the process, engineers discovered a part of Istanbul's incredible archaeological history. They've uncovered an ancient Byzantine port and remnants of a human settlement dating back 8,500 years. Should the tunnel project continue? Or should the site be protected? MME examines the issues.
Watch the show this week at the times below:
Friday: 0915, 1945
Saturday: 0645
Sunday: 0815 (all times GMT)
E-mail to a friend