(CNN) -- European Union foreign policy chief Javier Solana will meet with Iranian officials in less than a month to discuss the Islamic republic's recent proposal on its disputed nuclear program.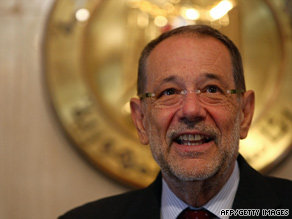 Details of European Union foreign policy chief Javier Solana's meeting with Iranians are still being worked out.
The meeting has been scheduled for October 1 "to get further details about Iran's proposal," Solana's representative said.
The details of the meeting with Iran's top nuclear negotiator, Saeed Jalili, are still being worked out, including the location, the representative said.
Last week, Iran released a five-page proposal to diplomatic representatives of the U.N. Security Council's five permanent members, plus Germany and the EU. The proposal was short on specifics and couched in flowery language but reiterated Iran's unwillingness to give up its nuclear program.
Iranian President Mahmoud Ahmadinejad repeated that message Sunday, saying his nation is ready to negotiate on a variety of issues but not on its nuclear program, according to state-run media.
The United States and other Western nations are concerned Tehran is concealing a nuclear weapons program, but Iran insists its program is strictly for civilian power.
U.S. Defense Secretary Robert Gates has said the United States would try to engage diplomatically with Iran but said it was not "an open-ended offer."
Gates said he hoped Iran would answer questions about its nuclear program in time for the U.N. General Assembly meeting, which begins Tuesday.
The United States believes Iran's proposals are "not really responsive" to the concerns about its nuclear program, State Department spokesman P.J. Crowley said last week.
Iran's supreme leader, Ayatollah Ali Khamenei, on Friday derided the West, saying Iran would not bend to pressure.
"It's wrong to believe that the cure to social and political problems is to bow to or disarm yourself in the face of the bullying power or the arrogant power -- that's what the enemy wants," Khamenei said during his Friday prayers sermon in Tehran.
E-mail to a friend

All About Iran • Nuclear Weapons • Mahmoud Ahmadinejad