BERLIN, Germany (CNN) -- International officials on Wednesday explored Iran's willingness to enter into negotiations over its nuclear program, and a top-level German negotiator expects the Islamic republic to re-enter talks soon.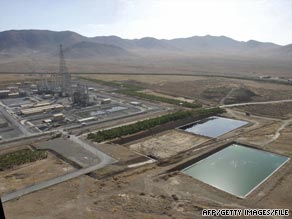 The still-unfinished research reactor at Arak (shown in 2006) was one of two sites visted by inspectors last week.
Political directors, or officials under the ministerial level, convened in a private meeting near Frankfurt, the German Foreign Ministry said. They were from Germany as well as China, France, Russia, Great Britain, and the United States -- the five permanent members of the U.N. Security Council. Representatives of the European Union also attended.
"We have underlined our political goal and the necessity to come to achieve results on the diplomatic level. We have emphasized that for Iran the road to a solution based on negotiations is still very much open," according to the German official, a top-level negotiator.
Saaed Jalili, Iran's top nuclear negotiator, said Iran would open talks and offer new proposals, according to a TV report aired on Tuesday.
"The package being offered by the Islamic Republic of Iran is updated and ready to be presented," Jalili said. "We hope [the new] round of talks will be held to help the world feel progress, justice and peace." Jalili did not say what the new package entailed.
Jalili told the state-run Islamic Republic News Agency that his country "is ready to cooperate in order to alleviate mutual [common] preoccupations in the international arena," IRNA reported.
The German negotiator said that "in regards to the comments made by Mr. Jallili this week, saying that Iran is willing to enter into talks, I expect of Iran to re-enter these talks before the next U.N. General Assembly. We have urged Iran to give negotiations a chance. "
The German negotiator said the countries will meet soon during the U.N. General Assembly meeting in New York to discuss any new developments.
The United States has accused Iran of concealing a nuclear weapons program. The Islamic republic insists its program is strictly for civilian power, but a U.N. report earlier this year found that the Iranian nuclear program had "military dimensions."
"We have underlined Iran's right to the peaceful use of nuclear energy. Iran should be well aware of the necessity to assure the international community of the peaceful nature of its nuclear program," the German negotiator said.
In an effort to persuade Iran to stop its enrichment program, these six nations presented Tehran with economic incentives in June 2008.
The State Department announced earlier this year that it has asked the European Union's international policy chief, Javier Solana, to invite Iran to new talks with these nations.
President Obama -- who has promised diplomatic engagement with Tehran -- has said that the world will not "wait indefinitely" and allow Iran to build nuclear weapons. Germany has warned Iran that it has a limited time to return to international talks on its nuclear program before it faces stiffer sanctions.
The U.N. Security Council has asked Iran to halt its uranium enrichment program, and the International Atomic Energy Agency -- which is the U.N. nuclear watchdog -- has asked Iran to clear up questions about the nature of its work.
International inspectors have made new visits to two of Iran's nuclear facilities, including a research reactor that the nuclear watchdog has been kept out of for a year, a source familiar with Iran's IAEA file said last month.
Inspectors visited the uranium enrichment plant at Natanz and the still-unfinished research reactor at Arak last week, the source, who was not authorized to speak publicly on the matter, told CNN. The visit marked the first time inspectors had been to Arak, and inspectors went to verify design information for the plant, the source said.
Iran has also refused a U.N. Security Council demand that it halt the production of enriched uranium at Natanz, insisting it is within its rights to produce fuel for civilian power plants.
E-mail to a friend

CNN's Frederik Pleitgen contributed to this report
All About United Nations Security Council • U.N.'s International Atomic Energy Agency • Nuclear Weapons • Iran