INSIDE THE MIDDLE EAST RE-LAUNCHES ON SEPTEMBER 9, 2009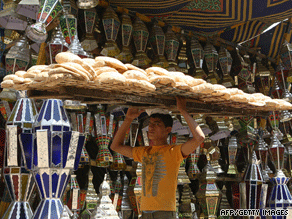 An Egyptian vendor carries a tray of bread loaves past a stall selling traditional tin lanterns known as Fawanis used to decorate during the fasting month of Ramadan.
Welcome the re-launch of our new-look Inside the Middle East with new titles, graphics and music.
On this edition, Zain Verjee will be out and about in the streets of bustling Cairo to showcase the customs and festivities of the Muslim holy month of Ramadan.
RAMADAN TV BATTLES -- After the sun sets and families break their fast at Iftar, Ramadan is all about TV. Networks and production companies plan all year in their attempt to win over the record audiences who tune in during the month. Schams Elwazer visits the cast and crew of Ramadan season competitors in Damascus and Cairo and try to see who will win the Ramadan TV battles this year.
Inside the Middle East
Bringing you the latest news on politics, pop culture and modern life in the Middle East.


YOUR IME DIARY -- a new segment that will feature both online and on-air offering a round-up of the region's cultural, sports and business events and a look ahead at the biggest events coming up in the month.
This episode we have a special contribution: local journalist and blogger Habib Battah takes viewers on along on his day-long journey to attempt to meet and interview Hip-Hop superstar Snoop Dogg his concert in Beirut. Tune in to find out if he scores the scoop with Snoop.
MY MIDDLE EAST -- is a new segment taking viewers on a journey into the heart of one of the region's greatest cities through the eyes of regional icons from the world of film, music, fashion, business and politics to reveal the hidden treasures within their chosen city. This month high-end jewellery designer Azza Fahmy explains why Cairo is the main inspiration for her designs incorporating Arabic calligraphy and Islamic and Coptic geometric designs.
Inside the Middle East airs the first week of every month on the following days and times:
Wednesdays: 0830, 1630
Saturdays: 0730, 1700
Sundays: 0530, 1730
Mondays: 0300
(All times GMT)
E-mail to a friend