JERUSALEM (CNN) -- Former Israeli Prime Minister Ehud Olmert has been indicted on a variety of corruption charges in a probe that dogged his last months in office, prosecutors announced Sunday.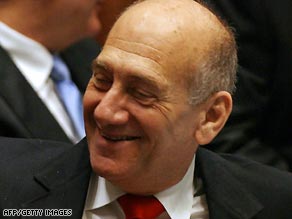 Former Israeli Prime Minister Ehud Olmert
Prosecutors have accused Olmert of double-billing government agencies for travel, taking cash from an American businessman in exchange for official favors and acting on behalf of his former law partner's clients.
Attorney General Meni Mazuz's office said the actions took place between 2002 and 2006, when he served as mayor of Jerusalem and in former Prime Minister Ariel Sharon's government.
Olmert spokesman Amir Dan said the former leader "can prove his innocence once and for all" in court.
"After they brought down a prime minister, it's obvious that the attorney general and the state attorney had no choice but to indict him," Dan said.
The charges include fraud, breach of trust and conflict of interest. Longtime aide Shula Zaken was also charged in the case, as well as a former travel coordinator from Olmert's office, Rachel Raz Risby.
He served as Jerusalem's mayor from 1993 to 2003 and held several Cabinet posts under Sharon, who has been in a coma since a massive stroke in 2006. Olmert became prime minister after Sharon's stroke. He announced his resignation in September 2008, after police recommended charges in the corruption probes surrounding him, and left office after a new government took power in March.
In 2008, American businessman Morris Talansky testified that he gave Olmert envelopes stuffed with cash on several occasions in exchange for help with his business ventures. Olmert said the money was for legitimate campaign purposes.
E-mail to a friend

CNN's Shira Medding contributed to this report
All About Ehud Olmert • Israel