(CNN) -- Youth Bulge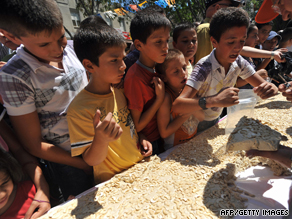 With young populations rising rapidly across the region, MME considers how the future job market will cope.
With over 70 percent of the population under the age of 30, the Middle East is facing a near and long term crisis which does not have an easy remedy at hand.
They call it 'the bulge' where they have an ever growing population and not enough jobs.
This week MME takes an in-depth look at the problem and the 100 million jobs needed to employ the region's next generation.
AMR Moussa
In order to tackle 'the bulge' the region's leaders adopted a blueprint for education, but development remains uneven.
This week MME talks to Amr Moussa, Secretary General of the Arab League about the region's educational development progress and the challenges that still lie ahead
Watch the show this week at the times below:
Friday: 0915, 1945
Saturday: 0645
Sunday: 0815 (all times GMT)
E-mail to a friend