By Dean Irvine
CNN





(CNN) -- Two years since he stood down as prime minister of the UK, time away from frontline politics has not softened Tony Blair.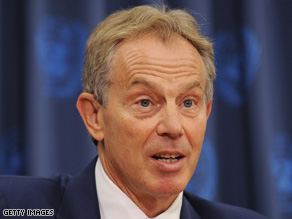 Tougher than before: Blair has become inured to media criticism and focused on his Middle East envoy role.
"I'm different in the sense that I'm a lot tougher," he told CNN in an exclusive interview.
"I find I haven't lost either my optimism or my ideals. So those two things which are good qualities to have and to keep are still there. Sometimes you meet former leaders and you see that the experience of office has almost depressed them -- that's not the case here."
Rather than join the board of a company and embark on the after-dinner speech circuit after leaving office in June 2007, Blair was appointed official envoy to the Middle East, representing the U.N., U.S., EU and Russia.
It's an enormously challenging role, but one he feels even more engaged with thanks to his own faith (Blair converted to Catholicism when he left British politics).
"I enjoy being there, I find it exciting and enthralling," Blair told CNN. "If you're someone from the Abraham faiths, then to be in the Holy Land; to be in and around the places that you read about and grew up with in the Bible, is very inspiring.
"But I'm sufficiently realistic to know that in the end when you're trying to resolve the various issues there are within the parties, that's the business of hard politics.
"I don't underestimate the challenge of doing it. The solution is not actually terribly difficult to see. What is difficult is to get people in a position where they can get to it."
Some have questioned his credibility in brokering peace in the region given his decision to send British troops into Iraq. Blair is dismissive of these accusations and reiterates the practicalities of politics.
Show times
Wednesday, Sep 2: 1330 GMT (2030 Hong Kong)
Thursday, Sep 3: 0400 GMT (1100 Hong Kong)
Saturday, Sep 5: 0530, 1530, 1930 GMT (1230, 2230, 0230 Hong Kong)
Monday, Sep 7: 0300 GMT (1000 Hong Kong)
Tuesday, Sep 8: 1630 GMT (2330 Hong Kong)

"What one of the Palestinians said to me after I had been there a short time was if we didn't have someone who had a good relationship with America, and could talk to the Israeli leadership, then it wouldn't be much use to us.

"People always want to resolve disputes like this by taking one side -- you can't.

"So the fact that I've got a close relationship with America, the fact that I do enjoy close relations with Israeli leaders, that helps me in getting this task done -- you're not going to do it any other way."

Speaking to CNN in China to mark the launch of a project to bring affordable solar lighting to villages across China, Blair touched upon another global challenge he's engaged in tackling -- climate change.

Standpoint environmentalists might take exception to his commitment to next-generation nuclear power as a part of the future energy mix, but Blair remains positive that agreement between countries on carbon limits can be reached at the UN summit in Copenhagen in December.
Don't Miss
"What the policymakers are doing, the psychological shift if you like, is they're no longer viewing this as a campaign they have to respond to. They're viewing it as a practical policy-making dilemma.
"Provided we take a realistic view of what countries can at their maximum achieve, then I believe you can get a deal that sets us on a path to a low carbon future."
While he's focusing on the future in the Middle East and the effects of a warming world, his political legacy in Britain and beyond while prime minister is still being discussed.
Ten years after his first election victory in 1997, Blair left office with a list of achievements in domestic politics that at times seemed to be overshadowed by political spin.
International initiatives he spearheaded, such as debt relief for the poorest developing nations, were eclipsed in the public consciousness by military action in Kosovo, Afghanistan and the war in Iraq.
The invasion of Iraq particularly polarized the public view in the UK and some commentators have suggested his role as Middle East envoy is a way of atoning for that action.
Blair, however, remains unrepentant: "People write a lot of things about me in the press, so I get inured to it.
"Look, I believe the Middle East is better off without a dictator like Saddam Hussein, but I also believe in Middle East peace, and I always have done.

"Are my politics and my values linked? Yes, of course they are. But I took those decisions for reasons that were not to do with religion, but to do with the belief that in each case it was right to protect people against the prospect or actuality of dictatorship.
"I tried to take the decisions for my country on the basis of what I thought was right. In the end people can disagree, and that's life."
E-mail to a friend