From Arwa Damon
CNN





BAGHDAD, Iraq (CNN) -- They're paid to watch for suspicious activity, to prevent bloody attacks. But employees at Baghdad's surveillance center often watch helplessly as death and destruction unfold before their eyes, on camera.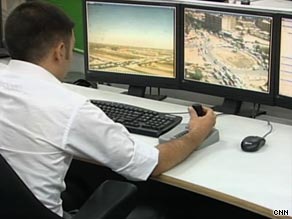 Security cameras watch the streets of Baghdad, but the center's director says it has a long way to go.
The center was set up a year and a half ago, with employees on the lookout for trouble, as police officers in a back room listen to the traffic on their radios. But there are not enough cameras to cover all of Baghdad -- only 5 percent of the city is surveilled under the current system.
The cameras picked up suspicious activity last Wednesday, but within 20 seconds -- before any action could be taken -- a truck blew up in front of the Foreign Ministry building. By day's end, bombings had killed nearly 100 people in the city.
The fledgling security surveillance operation has a long way to go, its director acknowledges. The center is understaffed and not yet open around the clock.

Watch security camera video of attacks »
Don't Miss
Though overall attacks have decreased in Iraq, the images on screen serve as undeniable evidence of the ongoing violence the Iraqi government is struggling to prevent.
That effort includes 113 security cameras placed mainly around government buildings throughout the city, though not all are functioning at any given time. Each work station at the surveillance center monitors the feeds from 10 cameras.
After last week's bombings -- which made Wednesday the bloodiest day in Iraq since U.S. combat troops withdrew from Iraqi cities at the end of June -- the center's managers met with Iraqi security forces in an effort to increase the number of cameras.

"We should all admit responsibility for this major breach of security," the director said. "And we have to fix the system."
For now, as the carnage fills the screen like a violent movie, employees cringe with guilt. They know that every time there is a blast on screen, it's because they were not able to prevent it.
E-mail to a friend

All About Iraq