From Jomana Karadsheh
CNN





BAGHDAD, Iraq (CNN) -- Iraq's main Shiite parties Monday announced the formation of a new alliance that excludes the prime minister -- at least for now.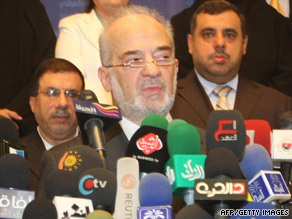 Former Iraqi Prime Minister Ibrahim al-Jaafari announces the new Iraqi National Alliance in Baghdad.
The coalition, named the Iraqi National Alliance, was formed to compete in the country's national elections in January. It includes top Shiite parties, but not Prime Minister Nuri al-Maliki's Dawa party.
Senior political leaders who announced the alliance in a televised meeting said they still are holding talks with Dawa and other parties.
The coalition replaces the powerful Iranian-backed Shiite United Iraqi Alliance -- of which Dawa was a part -- that swept the country's 2005 polls but later disintegrated. The new coalition was being presented as a nonsectarian one that includes a broader representation.
"This Iraqi National Alliance is a coalition of political forces from all aspects of Iraqi society," Ahmed al-Chalabi, the head of the Iraqi National Congress, which is part of this alliance, said on Monday. "It is not an Islamic alliance like the previous one. It includes liberal groups, it aims to be nonsectarian, it has many representatives of other communities of Iraq in it."
For now, the alliance is mainly made of top Shiite parties with a few small secular, Sunni and other parties.
The announcement came after months of intense negotiations between the country's Shiite parties and recent reports of disagreements between al-Maliki's Dawa and other Shiite parties on who would lead the alliance.
The alliance includes the Islamic Supreme Council of Iraq, followers of radical Shiite cleric Muqtada al-Sadr, former Prime Minister Ibrahim al-Jaafari, Fadhila party and others.
Shiite Vice President Adel Abdul Mehdi of the Islamic Supreme Council of Iraq, addressing the meeting, said he wished the Dawa party had been present at Monday's announcement, but negotiations will continue.
Jalal al-Deen al-Sagheer, a senior Islamic Supreme Council of Iraq member, said al-Maliki was at talks held Sunday and that the prime minister congratulated participants, promising to have another meeting in the coming weeks.
Hasan al-Sneid, a spokesman for al-Maliki's State of Law Coalition, also confirmed that negotiations are continuing.
In a news conference later Monday, al-Sneid said there was no "strategic disagreement," but rather disagreements over "mechanisms of participation" and wanting wider representation in the alliance. He denied this has to do with al-Maliki going for a second term or leadership of the alliance.
The prime minister's State of Law Coalition, which mainly includes members of his Dawa party, won control of most of the country's provincial councils in January's elections, turning back mainly Islamic Supreme Council of Iraq opposition.
Al-Maliki, whose campaigning in the last elections trumpeted recent security gains and a drastic drop in violence, has been affected by a series of deadly attacks in Baghdad and in northern Iraq.
Absent from Monday's major announcement were two of the most influential Shiite leaders, al-Sadr and Abdul Aziz al-Hakim. Al-Sadr, who fled to Iran in 2007, is continuing religious studies there. Al-Hakim, the former head of the United Iraqi Alliance who has been receiving cancer treatment in Iran, has been hospitalized there after his health deteriorated, his party announced Sunday.
E-mail to a friend

All About Nuri al-Maliki • Islamic Dawa Party • Iraqi National Congress • Ibrahim al-Jaafari