(CNN) -- 100th Program Special
This week Marketplace Middle East celebrates its 100th program!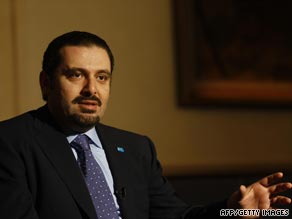 Lebanese prime minister-designate Saad Hariri is among the government and business leaders who have given exclusive interviews to Marketplace Middle East
From the Gulf to Gaza -- Ankara to Amman -- Cairo, Tripoli and Beirut... In the past two years, MME has taken you on a journey across the region, to explore the issues that are shaping the Middle East's business landscape.
On this special 100th anniversary edition we take a look back at the interviews with government and business leaders who have spoken to us exclusively, in light of record energy prices, the Middle East's emerging role in the G20 and the growth of regional Sovereign Wealth Funds.
Khaldoon Mubarak, The Crown Prince of Bahrain, Saad Hariri, Bill Gates and Tony Blair are among the highlights.
Watch the show this week at the times below:
Friday: 0915, 1945
Saturday: 0645
Sunday: 0815 (all times GMT)
E-mail to a friend