By Kevin Flower
CNN





JERUSALEM (CNN) -- A 27-year-old mother of five was bludgeoned to death with an iron chain by her father last week in Gaza in what human rights groups report was an honor killing.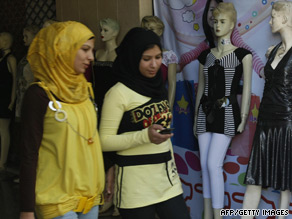 Palestinian Muslim women walk past a shop displaying Western clothes in Gaza City.
According to police in Gaza, the father, Jawdat al-Najar, heard his daughter Fadia, who had divorced in 2005, speaking on the phone with a man. He believed she was having a relationship with him. Police say al-Najar became enraged and beat her to death; her body was brought to a hospital where officials said she died of a skull fracture.
The woman was beaten to death in the northern Gaza neighborhood of Jebalya on Thursday night. The father called police and confessed to the murder.
According to investigators for the Gaza-based Al Mezan Center for Human Rights, the father and his three sons were taken into police custody. They said the killing "was carried out on grounds related to 'preserving' the honor of the family."
The Palestinian Center for Human Rights, another Gaza-based organization, said hospital forensic reports show the woman's body showed signs of torture and that she suffered a skull fracture from being hit by an iron chain.
Honor killings usually target female victims of rape, women suspected of engaging in premarital sex, and women accused of adultery. They are murdered by relatives because the violation of a woman's chastity is viewed as an affront to the family's honor -- on the woman's part.
In a statement, Al Mezan said honor killings were murder and "cannot be lawfully justified... the leniency with which the authority treats the perpetrators of such crimes, who usually allege that they were acting to preserve the honor of the family, has contributed to the noticeable increase in honor killings."
The Palestinian Center for Human Rights said nine people have been killed in honor crimes in 2009, five of them women.
This represents a two-fold increase from 2008 in such killings. The center echoed Al Mezan's call for stiffer punishment, saying that the murderers "are often sentenced to less than three civil years of imprisonment, equivalent to 24 months of effective imprisonment."
The killing highlights fears among human rights organizations about an increasing marginalization of women's rights in Gaza under the Hamas-controlled government.
Earlier this month, a Gaza court issued an order requiring all female lawyers in Gaza to wear traditional robes and veils when appearing before the court.
The Palestinian Center for Human Rights in Gaza slammed the decision, saying the court was seeking to "undermine personal freedoms and women's rights."
Hamas, the radical Islamic movement, took over Gaza in a violent power struggle with its political rival Fatah in 2007.
The group is credited with bringing a measure of law and order to the densely populated coastal strip, but attacks on cafes, music shops and Christian churches have given rise to fears that a militant form of Islamic law could be imposed.
Maha Abu Dayyeh Shamas, the director for the Jerusalem-based Women's Center for Legal Aid and Counseling, says the deterioration of rights for Palestinian women is not just a Hamas-inspired phenomenon.
She says rights for women and children in both Gaza and the West Bank are eroding. In societies suffering from long-term military conflict, Shamas said "religion and traditions become more important" and are frequently "used to oppress" and "women are generally the first victims."
E-mail to a friend

All About Gaza