(CNN) -- In focus: Abu Dhabi's space ambitions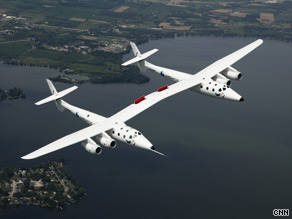 The VMS Eve aircraft of Virgin Galactic is designed to release a spacecraft at heights above 50,000ft.
How soon will you be able to call your next destination "out of this world?" For tourists in Abu Dhabi that could be in just over a year.
Aabar Investments has agreed to buy a stake in Virgin Galactic to send tourists to space from its planned spaceport facilities.
MME takes a look at Abu Dhabi's adventure into a new frontier.
Facetime with Mourad Mazouz, international restauranteur
Born in Algeria, Mourad Mazouz has been in the restaurant business for nearly 30 years. He's launched 10 restaurants in London, Paris and Dubai.
MME talks to the renowned restauranteur about his next project in Beirut, his business philosophy, and his novel approach to the downturn.
Watch the show this week at the times below:
Friday: 0915, 1945
Saturday: 0645
Sunday: 0815 (all times GMT)
E-mail to a friend