TEHRAN, Iran (CNN) -- The Iranian government has released 140 people arrested in the aftermath of the Islamic republic's disputed presidential election, a semi-official news agency reported Tuesday.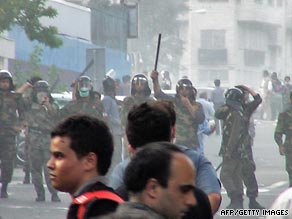 Iranian riot police block protesters on a Tehran street in June.
Kazem Jalali, spokesman for the parliament's national security and foreign policy commission, said the detainees posted bail and were freed from northern Tehran's Evin Prison during an inspection of the prison by a task force made up of commission members, the Iranian Labour News Agency (ILNA) reported.
However, Jalali said Tuesday's visit did not prompt the release of the detainees.
The members of the task force, charged with investigating circumstances around the arrest of the detainees and their treatment at the prison, "visited Evin Prison and were brought up to date regarding the status of some of the detainees," he said.
He added that none of the freed detainees, most of whom are accused of participating in demonstrations after the June 12 elections, was a major political figure.
Hundreds of people were detained after the elections, but officials say "only the organizers of the conflict" are still behind bars. Government officials announced last week that the "confessions" of the remaining detainees would soon be broadcast.
Meanwhile, President Mahmoud Ahmadinejad, who was declared the overwhelming winner of the election, appeared to take a softer tone regarding the detainees, asking Iran's judiciary chief, Ayatollah Hashemi Shahroudi, that "maximum Islamic kindness be extended to those who had been unknowingly put in the path [of the recent disturbances]," according to a statement on the president's Web site.
Among those still reportedly detained is Shahpour Kazemi, the brother-in-law of opposition leader Mir Hossein Moussavi, according to Moussavi's wife, Zahra Rahnavard.
Others include Behzad Nabavi, a Moussavi ally, and Mostafa Tajzadeh, who served under Iranian President Mohammad Khatami -- a Moussavi supporter -- ILNA reported, citing Farhad Tajari, deputy chief of the parliament's judicial and legal commission.
Those who were released were charged with "smaller infractions of the law," Jalali told ILNA without elaboration.
Though official numbers have not been updated for weeks, Tajari told ILNA that "evidence shows that ultimately 30 people were killed" in the post-election fallout.
As for arrests, Tajari said, "This number is also not clear because several different organizations had arrested the people, but the total number arrested is definitely less than a thousand."
E-mail to a friend

All About Iran • Mahmoud Ahmadinejad • Mir Hossein Moussavi