(CNN) -- A week of U.S. diplomatic maneuvering in the Middle East began Sunday with special envoy George Mitchell meeting with Syrian President Bashar al-Assad before heading to Israel and Egypt.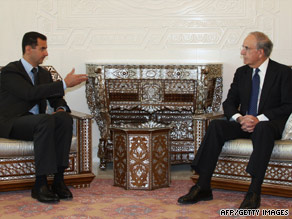 U.S. special envoy George Mitchell, right, and Syrian President Bashar al-Assad meet in Damascus on Sunday.
The Syrian Arab News Agency quoted Mitchell as saying the meeting with al-Assad was "important and positive." He told journalists the talks involved not only prospects for a comprehensive regional peace agreement, but also bolstering U.S. ties with Syria, according to the news agency.
Mitchell also said President Obama believes a comprehensive peace agreement that offers security, stability and prosperity to all countries in the Middle East is the only way to end hostilities between Arabs and Israelis, SANA reported.
An adviser to al-Assad echoed those thoughts.
"George Mitchell spoke about the determination from President Obama to bring a comprehensive peace to the region. We have been working towards this for many years," said Bouthaina Shaaban. "He stressed a mutual peace, among all parties. We welcome all of this.
"It is of course natural that we may have our differences, but we spoke about them. This is an attitude, one built on relations between countries, one that is based on dialogue, respect and the region at large."
The meeting, which also included Syrian Foreign Minister Walid al-Moallem, touched on the possibility of Syria resuming indirect talks with Israel, with Turkey as the go-between, Shaaban said.
Syria is interested, she said, "but only after Israel withdraws from the Golan (Heights). We reiterate our support for all the U.N. resolutions involved. But we will only reopen a dialogue after the Israeli's reiterate their commitment. We will not resume negotiations until Israel commits itself to what it has before: a withdrawal to the line of June 4, 1967."
The atmosphere of the meeting, she said, "was very positive. I feel that Mitchell is an honest man, and that President Obama is as well -- and that he wants to do something good and positive for Middle East peace."
Don't Miss
Mitchell went from Syria to Israel, where Defense Minister Ehud Barak greeted him with words of hope for the peace effort.
"We are ready to take any whatever reasonable effort to make it happen," Barak said. "... Of course, we bear in mind our vital interests, but we understand the needs of the other partners as well and we clearly need the leadership of the United States -- as well as your experience and wisdom -- in the attempt to achieve it."
Mitchell responded that discussions between the United States and Israel "cover a wide range of issues, all of which are intended to help promote what we share in common: a desire for comprehensive peace in the Middle East. ... That is President Obama's vision and objective and it is that which he has asked me to pursue."
Soon after arriving in Israel, Mitchell left for Egypt, where he is to meet with President Hosni Mubarak. The quick side trip -- Mitchell is to be back in Israel on Monday morning -- was a result of a change in Mubarak's schedule, a U.S. Embassy spokesman said. The meeting with Mubarak originally was set for later in the week.
Top U.S. defense officials, including Defense Secretary Robert Gates, also will be in Israel in the coming week, to meet with Prime Minister Benjamin Netanyahu and security counterparts.
Netanyahu, who has been at odds with Obama's government on some key issues, welcomed the U.S. visitors.
"Naturally, even within the fabric of friendly bilateral relations between two allies, there will not be full agreement on every point," Netanyahu said Sunday at the start of his weekly Cabinet meeting. "On various issues, we are trying to reach the same understanding so that together we may advance our common goals -- peace, security and prosperity for the entire Middle East."
A warming of relations between the United States and Syria was signaled last month when the Obama administration announced it intended to send an ambassador to Damascus.
The United States withdrew its ambassador from Syria in 2005 in protest of the assassination of former Lebanese Prime Minister Rafik Hariri.
Washington accused Syria of being behind the killing of the popular statesman in a massive bombing that also left 22 others dead. Syria denies the accusation. An ongoing United Nations investigation has found indications of Syrian involvement.
A charge d'affaires has been the highest-level American diplomat in Damascus since 2005.
Mitchell, a former U.S. senator who is Obama's special Middle East envoy, visited Syria two weeks before the June announcement about returning an ambassador to the country.
Also Sunday, U.S. Secretary of State Hillary Clinton cited Israel's sovereign right to defend itself from an "existential threat" by Iran, affirming a similar comment in recent weeks by Vice President Joe Biden.
"They're not going to listen to other nations if they believe they are acting in the furtherance of their survival," Clinton said of Israel on the NBC program "Meet the Press."
On a trip to Asia last week, Clinton raised concerns about a softening of U.S. opposition to Iran developing a nuclear weapon when she commented that such a result would fail to strengthen Iran's regional influence.
Clinton said Sunday that U.S. policy remains firmly opposed to a nuclear-armed Iran.
"We believe as a matter of policy it is unacceptable for Iran to have nuclear weapons," she said.

E-mail to a friend

CNN's Cal Perry in Beirut contributed to this report.
All About Middle East • Syria • Israel • George Mitchell