Editor's note: Fareed Zakaria is an author and foreign affairs analyst who hosts "Fareed Zakaria GPS" on CNN on Sundays at 1 and 5 p.m. ET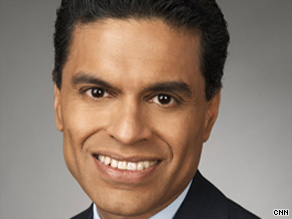 Fareed Zakaria says it would not be surprising to see violence flare again in Iran
NEW YORK (CNN) -- Security forces dispersed a crowd gathering to protest the country's regime Tuesday at a square in Iran's capital.
Demonstrators, who say the June 12 re-election of hard-line President Mahmoud Ahmadinejad was fraudulent, have been seizing on almost any occasion to publicly show their disdain.
Tuesday marked the anniversary of demonstrations in 1952 that supported democratically elected former Prime Minister Mohammed Mossadegh, a national hero to many Iranians. He was ousted in a CIA coup the following year.
Iran's police chief warned Tuesday that law enforcement would "act firmly" against demonstrators.
Brig. Gen. Ahmad-Reza Radan, Tehran's police chief, also warned against holding illegal protests that would disturb the peace, the state-run Fars news agency reported.
Author and foreign affairs expert Fareed Zakaria spoke to CNN about this week's events in Iran.
CNN: Are we experiencing the quiet before the storm in Iran? Will we see renewed violence and political turmoil in the country?
Fareed Zakaria: That is definitely possible. We haven't seen big protests or explosions of violence in Iran this past week but there is a lot of political intrigue and tensions bubbling right below the surface.
Fareed Zakaria GPS
Fareed Zakaria analyzes the latest on the situation Iran on this week's "GPS"
Sunday 1pm and 5pm ET

Many prominent members of the establishment are publicly expressing their dissent with the current political situation.
Sentiments that used to only be expressed behind closed doors are being aired for all to see. Right now everything is calm, but with all the competing interests, it would not be surprising to see violence flare again.
CNN: Former President Rafsanjani was said to be behind the campaign for candidate Moussavi. Is he one of the people speaking out?
Zakaria: Yes. Ali Akhbar Rafsanjani has called for the release of all those imprisoned for political reasons. He is clearly opposed to the actions that have taken place since the elections.
And he holds a very important constitutional role. He is the chairman of the Assembly of the Experts, which holds the power of dismissing the Supreme Leader.
Mohammed Khatami, another two-term president, has also taken on the establishment -- he has called for a referendum on the country's leaders.
CNN: What about Mir Hossein Moussavi?
Zakaria: Well, the candidate who might have actually won the June presidential elections has announced that he is going to create a large-scale social movement to oppose the government.
CNN: How are President Ahmadinejad and Khamenei handling the dissent?
Don't Miss
Zakaria: This is why I was saying there are many forces under the surface at work. There appears to be a rift developing between the Supreme Leader and President Ahmadinejad. They are battling over Ahmadinejad's appointment of a deputy, Esfandiar Rahim Mashai.
Mashai is a long time friend of the Ahmadinejads -- and in fact, Ahmadinejad's son is married to Mashai's daughter.
Khameni however did not approve of the choice due to comments Mashai made last year in perceived support of Israel. In an act of unprecedented defiance, Ahmadinejad has refused to accept the Supreme Leader's directive that his deputy be replaced. As I said, there are many storylines occurring simultaneously within Iran.
CNN: What does all this mean?
Zakaria: It's very hard to say, but clearly there is a bitter contest for power taking place in Iran. The stakes are very high. It does not appear that the regime has lost its grip on the repressive backbone of its power, the Revolutionary Guard, and Basij. But the theocratic facade is clearly cracking.
That's why Ahmadinejad can dare defy the Supreme Leader. In fact, a leading Iranian paper, allied with the opposition, now refers to Khamenei as merely the "leader" of Iran, having dropped the prefix "supreme." These might all seem like small signs -- but imagine if one day Vatican newspapers stopped calling the pope "His Holiness."
This week on GPS, we interview a prominent Iranian academic often seen as aligned with the regime.
However, with friends and foes rotating their allegiances, it will be interesting to see what he has to say about what is occurring on the ground. It has been very difficult to speak with anyone within Iran, so this is a rare opportunity that I hope you will catch.
E-mail to a friend

All About Akbar Hashemi Rafsanjani • Iranian Revolutionary Guard Corps • Mir Hossein Mousavi