BAGHDAD, Iraq (CNN) -- Bombings killed seven people and wounded dozens of others Tuesday in Baghdad's Sadr City, officials said.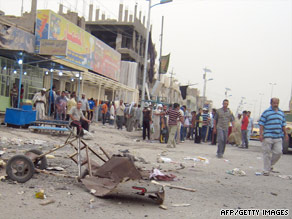 A sandwich stall is among the debris scattered in a street after a twin blast Tuesday in Baghdad's Sadr City.
In the first instance, twin bombs went off in quick succession, killing four people and wounding 31, an Iraqi Interior Ministry official said.
The explosions occurred at an area where construction workers gather in Sadr City, a slum in the eastern part of the Iraqi capital.
In another blast, three civilians were killed and 16 others hurt when a bomb exploded elsewhere in Sadr City.
Also Tuesday:
Two bombs exploded near an entrance to the Green Zone, the high-security area in central Baghdad that contains the U.S. Embassy and key Iraqi government buildings.
The bomb targeted a convoy of the Minister of Water and Irrigation, the official said. The minister was unhurt. But 12 people, including three traffic police officers, were wounded, he said.
A bomb in a parked car detonated in Ramadi, wounding 19 people. The bomb targeted a police patrol, authorities said. Ramadi, about 70 miles (110 kilometers) west of Baghdad, is the capital of Anbar province.
E-mail to a friend

CNN's Jomana Karadsheh and Yousif Bassil contributed to this report.