TEHRAN, Iran (CNN) -- Iran's supreme leader warned the political opposition Monday not to "direct the society toward insecurity."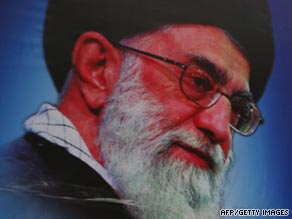 Ayatollah Ali Khamenei has warned the opposition to consider its approach in Iran.
"You are being tested. And failing this test will not only mean your failure, it would also mean your fall," Ayatollah Ali Khamenei said in his remarks to leaders, according to text released by the government-run Islamic Republic News Agency.
Khamenei has stood by the official results of last month's presidential election, in which hardline incumbent President Mahmoud Ahmadinejad was declared the winner.
In his remarks Monday, he reiterated his position that post-election demonstrations in Iran -- in which tens of thousands of Iranians took to the streets, calling the election results a sham and insisting on reform -- were the result of interference by foreign governments and the media.
"The media of the arrogant powers, in order to support the rioters, call them 'the people.' But the people are those millions of men and women who stood aside and looked upon [the rioters] with disdain and hatred," he said.
Ahmadinejad's chief rival, reformist Mir Hossein Moussavi, visited with family members of protesters now behind bars and reiterated his call for the release of the detainees, the Iranian Labor News Agency reported Monday.
"These difficulties and hardships are part of the price that our society pays for a better future," Moussavi told the families, according to the news agency. "We strive for an Islamic and free state in which all free thinkers are valued and people can determine their own destiny. Those who were arrested did not move outside of these values."
Last week, Ali Akbar Hashemi Rafsanjani, a former president and one of Iran's most powerful clerics, called for the release of imprisoned protesters.
Khamenei -- without using Rafsanjani's name -- said Monday, "Anyone, regardless of his position and title, will be hated by the people if he tries to direct the society toward insecurity."
He added, "Political figures must be vigilant because their words, analyses and actions could cause social disturbance and insecurity, which is moving against the path of the nation of Iran."
"Each Iranian expresses his opinion," the supreme leader said. "But since the nation is aware of the fact that there is enmity toward the [Islamic] system and that there is a hand that is directing the effort to attack the country's management system, the nation distances itself from them, even if they use the same slogans that the nation believes in."
Khamenei spoke on a key date in the Muslim holy calendar, on which it is believed God selected Mohammed to be a prophet.
E-mail to a friend

All About Iran • Mahmoud Ahmadinejad • Mir Hossein Moussavi