By Paula Hancocks
CNN





GAZA CITY (CNN) -- It's meant to be a children's program, but "Young Pioneers" on Hamas-run television is well-known for pushing the boundaries of what most people would deem suitable content for children.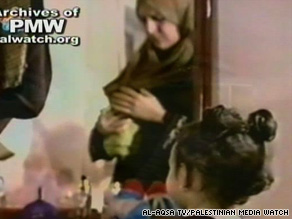 The martyrdom mission re-enactment using actors, was played to Reem Riyashi's children.
One episode raised eyebrows when it first aired two years ago on al Aqsa TV, featuring two young Palestinian children being shown a re-enactment of their mother's preparations for and execution of a suicide bombing.
The show was recently aired for the children of the bomber and other youths in a studio audience.
The young anchor sounds a defiant note: "And here we say to the occupier that we will follow her doctrine, the doctrine of the martyr mujahida Reem Riyashi, until we liberate our homeland from your illegitimate hands."
Riyashi killed four Israelis in a 2004 attack at the Erez crossing between Gaza and Israel.
In the video, an actress playing her prepares explosives for her mission, ignoring her children's questions about what she is doing.
"Mummy, what are you holding in your arms -- a toy or a present for me?" her daughter asks.
Her daughter then sees a news report about the suicide bombing and sings, "Only now I understand what was more important than us."
The camera cuts back to the faces of her two children watching the re-enactment.
The Israeli monitoring group Palestinian Media Watch publicized and condemned the program when it first appeared.
The group told CNN, "These young children are tragic victims of horrific child abuse."

Watch a report on the controversial episode »
Dr. Eyad Sarraj, a leading Palestinian psychiatrist in Gaza, worries about how glorifying suicide bombers affects children.
"Three years ago, we did a study on children in Gaza between the ages of 12 and 14, and we asked them, what would you like to be when you are 18?" Sarraj said. "At that time, 36 percent of boys said, 'I would like to be a martyr,' and 17 percent of the girls said the same."
He said children in Gaza had been so traumatized by Israeli-Palestinian violence over the years that their perceptions of life and death were damaged.
It's possible for most people in the region to watch al Aqsa television if they have the right satellite dish, though it's not possible to tell how many have seen the footage.
It is Hamas-run and its audience probably is restricted to those with that political affiliation.

Al Aqsa did not return CNN's calls for comment on the program.
Two years ago, the station created a Mickey Mouse-style character that encouraged "violent resistance" against Israel and simulated the use of an AK-47 and grenades.
E-mail to a friend