BAGHDAD, Iraq (CNN) -- Iraq has increased security around all Christian places of worship after a wave of church bombings that has killed four and wounded at least 35 others.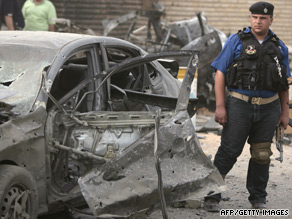 An Iraqi policeman stands next to the burned-out wreck of a car outside a Baghdad church July 13.
The latest attack happened Monday morning in the northern city of Mosul, when a car bomb detonated near a church in the al-Faisaliya district, wounding three children, an Interior Ministry official told CNN.
Six churches in and around Baghdad were bombed over the weekend, leaving four dead, officials told CNN. A total of 35 people have been wounded in the wave of attacks, including the three children Monday.
Iraq's Sunni Vice President Tariq al-Hashimi "strongly condemned" the attacks on churches in a statement posted on his Web site. He called on security forces to find the perpetrators and bring them to justice.
The Interior Ministry issued directives Sunday evening to beef up security at churches across the country, ministry spokesman Maj. Gen. Abdul Karim Khalaf said.
In recent weeks, there were similar bombings against Shiites, Khalaf said. He blamed the attacks on those who are trying to create tensions among Iraq's various communities.
Mosul is the capital of Nineveh province, where authorities have increased police patrols and implemented a partial ban on vehicles, a security official with the provincial military command center told CNN Monday.
Only cars belonging to residents of the area can enter al-Hamadaniya, a neighborhood in northern Mosul where authorities received intelligence about possible attacks on churches, the official said.
Members of the dwindling Christian community in Baghdad expressed fear and concern after hearing about Monday's attack in Mosul, which followed five other attacks in Baghdad over the weekend.
"After a year and a half of calm and now the bombings and targeting of Christians is back?" said Father Saad Sirop Hanna, a Catholic priest in Baghdad. "We are concerned."
Many of Iraq's estimated 1 million Christians have fled the country after targeted attacks by extremists. In October, more than a thousand Iraqi families fled Mosul after they were reportedly frightened by a series of killings and threats by Muslim extremists, who apparently ordered them to convert to Islam or face possible death. At least 14 Christians were killed in Mosul in the first two weeks of October.
One Christian Iraqi, interviewed outside Baghdad's Sacred Heart Church -- one of three churches bombed Sunday afternoon -- said the bomb went off shortly before 5 p.m., as members were arriving for Sunday evening mass. No one was hurt, Sabhan George told CNN, but the bomb damaged the church building and some cars outside.
George said he is concerned about the church bombings. If this continues, he said, "there will be no Christians left in Iraq."
The first attack took place Saturday night at St. Joseph's Church in western Baghdad, according to an Interior Ministry official. Two bombs placed inside the church exploded about 10 p.m. (1900 GMT). No one was in the church at the time of the attack.
St. Joseph's was one of six churches hit by coordinated bombings of Christian houses of worship in Baghdad and Mosul in 2004. The church is in the al-Jamiaa neighborhood of Baghdad, a former stronghold of al Qaeda in Iraq. There have been recent reports of an increase in targeted attacks in the area.
Five other churches in Baghdad -- including Sacred Heart -- were bombed on Sunday, killing four people and wounding more than 30 others. Most of the churches were damaged in the bombings, according to video.
Hanna said there were more questions than answers as to why the Christians are being targeted again and who would be targeting them.
"We wonder, 'Why? Why now?'" he told CNN. "The political situation in the country is not stable and there is a lot of confusion."
The Iraqi Catholic priest was kidnapped and held for 28 days during the height of the country's sectarian conflict in 2006. He confirmed an increase in security in Baghdad, saying a police patrol was parked outside his church in central Baghdad.

Hanna said he believes some insurgents want to "stir up tensions" following the June 30 withdrawal of U.S. combat troops from Iraqi cities. He said many Christians are now afraid of going to church again, but some are still undeterred by the latest attacks. The most direct effect, he said, is many Christians are leaving the country.
"There is little hope, that is why they are leaving," Hanna said.
E-mail to a friend

CNN's Jomana Karadsheh and Youssif Bassil contributed to this report.
All About Iraq • Al Qaeda in Iraq