TEHRAN, Iran (CNN) -- A top Iranian cleric said Friday some of the arrested employees from the British Embassy in Tehran would be put on trial, Iranian Students News Agency reported.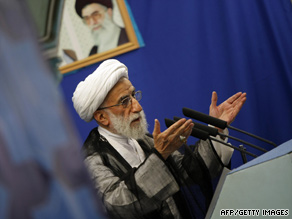 Ayatollah Ahmad Jannati speaks at Friday prayers in Tehran, saying some UK Embassy staff will be put on trial.
The employees have been accused of helping to incite some of the post-election protests that swept through the country.
British Foreign Secretary David Miliband issued a statement "urgently seeking clarification from the appropriate Iranian authorities."
He said: "We are confident that our staff have not engaged in any improper or illegal behavior.
"We remain deeply concerned about the two members of our staff who remain in detention in Iran."
Iranian officials had said previously that all but one of the nine embassy staffers taken into custody on June 27 were released.
The European Union said Friday that all of its member governments will call in the Iranian ambassadors in their countries to tell them that the EU opposes the continued detention of the two British staffers.
Christina Gallach, spokeswoman for EU international policy chief Javier Solana, told CNN the move is part of a coordinated diplomatic effort to pressure Iran into releasing the staffers.
Don't Miss
A State Department official told CNN Friday the United States "deplores the harassment of British Embassy staff and fully supports United Kingdom calls for their release."
Iranian Students News Agency quoted the Ayatollah Jannati at Friday prayers saying, "The British foreign office had said last March that there may be riots during the elections in Iran and they said that they should warn their citizens to be careful.
"What do these predictions mean? And then some people in the UK embassy, who had a hand in the disturbances, were arrested and will surely be put on trial."
Iran's intelligence minister has blamed Western powers for stirring up protests over its disputed presidential election, singling out Britain and saying the British Embassy in Tehran "played a heavy role in the recent disturbances."

"The fact that Iran is stable, calm and secure, they're upset with this," Intelligence Minister Gholam-Hosein Mohseni Ejei told Press TV.
The Iranian government has long accused other countries, especially Britain, of "meddling" in its affairs but has offered no proof any outside forces have been involved in the unrest since the election.
E-mail to a friend

All About Iran • United Kingdom