TEHRAN, Iran (CNN) -- Three more British Embassy staffers arrested by Iran have been released, Tehran's government-funded Press TV reported Wednesday. One staff member remains in detention.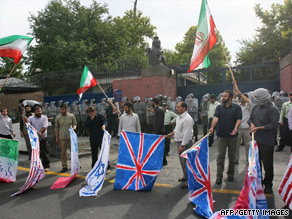 Iranian students protest outside the British embassy in Tehran on June 23.
Five other Iranians who worked for the British Embassy were released earlier this week, an Iranian Foreign Ministry spokesman said Monday.
Britain's Foreign Office in London would not comment on the latest report.
"We won't get into the running commenting on numbers, we still have people detained," said the spokeswoman, who declined to be named because of standard policy.
"It is unacceptable that they are being held and we want them all released. Allegations against them are unfounded."
On Monday, the Foreign Office confirmed that "some" staff had been released, but would not say how many.
British Foreign Secretary David Miliband on Sunday protested the arrests, calling them "harassment and intimidation of a kind which is quite unacceptable."
Iran's intelligence minister has blamed Western powers for stirring up protests over its disputed presidential election, singling out Britain and saying the British Embassy in Tehran "played a heavy role in the recent disturbances."
"The fact that Iran is stable, calm and secure, they're upset with this," Intelligence Minister Gholam-Hosein Mohseni Ejei told Press TV.
The Iranian government has long accused other countries, especially Britain, of "meddling" in its affairs, but has offered no proof any outside forces have been involved in the unrest since the election.
Last week, Iranian authorities said they had arrested several foreign nationals, some with British passports, for allegedly helping foment the disturbances.

Miliband rejected the allegation Sunday.
"The idea that the British Embassy is somehow behind the demonstrations and protests that have been taking place in Tehran in recent weeks is wholly without foundation," he said.
E-mail to a friend

All About Iran • Iranian Politics • World Politics • United Kingdom