Editor's note: Fareed Zakaria is an author and foreign affairs analyst who hosts "Fareed Zakaria GPS" on CNN on Sundays at 1 and 5 p.m. ET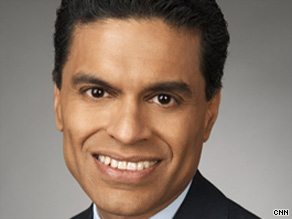 Fareed Zakaria says the Iranian regime is facing a "real crackup," but that doesn't mean there will be a revolution.
NEW YORK (CNN) -- Iranian opposition leader Mir Hossein Moussavi issued a defiant statement Thursday, again insisting the controversial June 12 presidential election was a "fraud," Iran's government-funded Press TV reported.
He said "those responsible for electoral fraud" had sided with those behind the post-election violence "and spilled the blood of the people," according to Press TV, which cited a statement on his Web site, Kalameh.
CNN has not been able to verify the authenticity of the statement on the site, which has been known to carry Moussavi's official statements, because it appeared to be blocked.
Moussavi's statements on Thursday came as the mood in the capital was "defiant but nervous," said one resident, whom CNN is not identifying for safety reasons. Life was returning to a routine, "but not like before the election," the resident wrote. Security forces were ever-present, the resident said. But after days of protest, the city was calmer.
CNN spoke to author and world affairs analyst Fareed Zakaria about this week's developments in Iran.
CNN: Is the revolution in Iran petering out?
Fareed Zakaria GPS
Fareed Zakaria talks to former UK Prime Minister Tony Blair about the situation in Iran on this week's GPS
Sunday, 1 p.m. and 5 p.m. ET

Fareed Zakaria: Well, I think that it was always too much to expect a revolution in Iran. The regime is facing a real crackup, but that doesn't mean this will look like 1989 in Europe.
CNN: Why not? People got out in the streets in similar fashion.
Zakaria: Those velvet revolutions toppled the entire structure of Communist power and ideology within a few months. It makes us imagine that something similar is possible in Iran. But that's unlikely. Last week on GPS, Zbigniew Brzezinski warned against drawing parallels with Eastern Europe.
There were three powerful forces working against the Communist regimes in the Soviet Empire: democracy, nationalism and religion. The protesters hated communism because, one: it denied people any participation in government; two: it was imposed on Eastern European countries by Russia, an imperial power; and three: the atheist ideology of Communism was a violation of the core beliefs of these often-devout, religious people.
If you think about it, democracy, nationalism and religion are the three most powerful forces in the modern world. It's no wonder that Communism cracked.
CNN: Those factors don't exist in Iran today?
Zakaria: It doesn't appear the three forces are all pointed against the Iranian government. Democracy is certainly working against the regime, but is religion? It's unclear. Iranians don't like theocracy, but they are religious, and clearly (President Mahmoud) Ahmadinejad got the votes of the more rural and observant masses. As for nationalism, neither side can truly claim it.
CNN: I thought the regime was waving the nationalistic flag.
Zakaria: The regime is trying hard to. They have accused Britain and the United States of interfering in Iran's internal affairs. It's a charge that does tend to resonate in Iran, a proud and prickly country.
It's not just regime propaganda. Many Iranians resent the long interference in their country's affairs by outside powers like the United States and Britain. However, most Iranians don't accept the crude assertions made by Ayatollah Khamenei and Ahmadinejad that Washington is manipulating the opposition movement.
CNN: What is different this time?
Zakaria: Iranians have recognized the regime and its propaganda. But also, President Obama has been wise and cautious in his statements on Iran, offering moral support but steering clear of aggressive political interference.
Nobody in their right mind can doubt where America stands in this struggle -- we have not had relations with the Iranian regime for 30 years -- but inserting America into the fight will help the regime, not the people.
Obama's critics are senators and columnists; they can grandstand. He has to govern. They want to make a point; he wants to make a difference.
E-mail to a friend

All About Mir Hossein Moussavi • Mahmoud Ahmadinejad • Ayatollah Ali Khamenei