TEHRAN, Iran (CNN) -- Iranian opposition leader Mir Hossein Moussavi issued a defiant statement Thursday, again insisting the controversial June 12 presidential election was a "fraud," Iran's government-funded Press TV reported.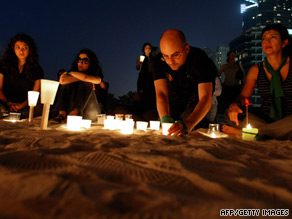 Iranians in Dubai hold a candlelight vigil Thursday for Neda Agha-Soltan, who was slain in election protests.
He said "those responsible for electoral fraud" had sided with those behind the post-election violence "and spilled the blood of the people," according to Press TV, which cited a statement on his Web site, Kalameh.
CNN has not been able to verify the authenticity of the statement on the site, which has been known to carry Moussavi's official statements, because it appeared to be blocked.
Press TV also said he accused the government of trying "to isolate and vilify him in a bid to get him to withdraw his election challenge."
"I will not withdraw from demanding the rights of the Iranian people to protect my own interests and for fear of their threats," Moussavi said, according to the news outlet.
He reportedly added, "The fact that they are trying to ignore is that a massive fraud took place in this election and afterwards those who opposed the situation were brutally detained, attacked, injured and killed."
Also on Thursday, a Moussavi aide was banned from leaving the country, Press TV reported.
Abolfazl Fateh "has been banned [from leaving Iran] because of [his role in] recent developments and his efforts to arrange for the illegal gathering of Moussavi supporters," Press TV said, citing the semi-official Fars News Agency. Fateh had been studying in England, Press TV said.
Another opposition activist, Mohammadreza Jalaeipour, was prevented from leaving the country on June 17, his wife, Fatemeh Shams, told CNN on Wednesday. She said she hadn't heard from her husband since then.
Moussavi's statements on Thursday came as the mood in the capital was "defiant but nervous," said one resident, whom CNN is not identifying for safety reasons. Life was returning to a routine, "but not like before the election," the resident wrote. Security forces were ever-present, he said. But after days of protest, the city was calmer.
An Iranian opposition party postponed a demonstration that had been planned for Thursday, a day after security forces crushed another planned demonstration with a show of force.

Watch demonstrators flee police »
The opposition had called for a ceremony Thursday to remember the victims of Iran's post-election protests, but Wednesday night, the Web site of the party of defeated presidential candidate Mehdi Karrubi announced it would be delayed. The Web site of the Etemad-e-Melli (National Trust) party did not offer an alternate date.
Karrubi proposed Thursday that his supporters and backers of President Mahmoud Ahmadinejad hold rallies at the same time, in different locations, to see who the people support -- the government or the opposition.
The Internet communications that CNN monitors to determine what is happening in Iran -- where the government has imposed severe restrictions on international journalists -- appeared to have slowed on Thursday.
It was not clear if that was because there was less activity or because the government was blocking access.
Don't Miss
Eight members of the pro-government paramilitary Basij have been killed since the unrest started, Press TV reported Thursday, citing unnamed Iranian officials.
The paramilitaries were killed by gunfire, Press TV reported, "indicating that there were gunmen fomenting unrest among protesters, the officials said."
CNN has received numerous accounts of nighttime roundups by government forces of opposition activists and international journalists from their homes.
After Moussavi met with university teachers Wednesday, police arrested 70 attendees but released 66 of them Thursday morning, his Web site said.
The Fars News Agency Thursday carried a denial that anyone had been arrested, saying: "These rumors are false and have been denied."
Fars cited an "informed source" but did not name the person.
Ahmadinejad met with members of parliament Wednesday night, but the influential speaker, Ali Larijani, did not attend, the Iran Labor News Agency reported.
This was the third time that Larijani, former speaker Gholamali Haddad Adel, as well as powerful lawmakers Ahmad Tavakoli and Mohammad Reza Bahonar refused to attend a meeting with Ahmadinejad, ILNA said.
President Obama's administration is walking a diplomatic tightrope in responding to the crisis. The White House said Wednesday that it was rescinding invitations to Iranian diplomats overseas for U.S. Independence Day celebrations. And Obama, who since taking office has sought rapprochement with Iran, said he was "appalled and outraged" by the post-election violence.
Ahmadinejad Thursday told Obama to stop "interfering" in Iran's affairs, Fars reported.
"The question is, do you want to use this kind of literature to address Iran and create a dialogue?" Ahmadinejad asked. "If this is your position, then there is nothing to talk about."

Watch a report on Ahmadinejad's reaction »
The key to what happens next may be what role Moussavi assumes. His supporters say he was robbed of a victory in the election and are demanding a fresh one.
In the face of protests, authorities offered a partial recount. And on Wednesday, the Interior Ministry said it had conducted a recount of some ballot boxes in the presence of another defeated candidate's representatives -- and found no discrepancies.
According to official figures, 17 people have died in clashes with government forces since the protests began.

Watch more on the protests »
CNN has received unconfirmed reports of as many as 150 deaths related to the popular uprising on Saturday alone.
Iran's government has restricted access by international journalists in the country, making it difficult to ascertain exact figures.
But Iran's ambassador to Mexico told CNN Thursday that the restrictions were imposed because the journalists were not reporting the story fairly.
"Some of the reporters and mass media do not reflect the truth," said Ambassador Mohammad Hassan Ghadiri.
For example, he said, international news organizations have lavished coverage on demonstrations by supporters of Moussavi, whom the government has said lost to the incumbent Ahmadinejad by a landslide.
But those same news organizations have not shown "many, many demonstrations in favor of the winner," he said.

Watch Ghadiri respond to the situation »
Further, he said, members of the international news media have failed to report on people setting banks and buses afire or attacking other people. "The only things they show are the reactions of the police," he said.
Ahmadinejad's overwhelming victory should not have surprised anyone, Ghadiri said, noting that a poll published in the United States three weeks before the June 12 elections showed Ahmadinejad with a commanding lead. "Why don't you show that?" he asked.
Ghadiri added that the United States may have been behind the killing of Neda Agha-Soltan, the 26-year-old Iranian woman whose fatal videotaped shooting on Saturday made her a symbol of opposition.
"This death of Neda is very suspicious," he said in an interview in Mexico City, Mexico.
"Well, if the CIA wants to kill some people and attribute that to the government elements, then choosing women is an appropriate choice because the death of a woman draws more sympathy," Ghadiri said.

But, he added, "I am not saying that now the CIA has done this. There are different groups. It could be the [work of another] intelligence service, it could be the CIA, it could be the terrorists. Anyway, there are people who employ these types of methods."
In response, CIA spokesman George Little said, "Any suggestion that the CIA was responsible for the death of this young woman is wrong, absurd and offensive."

E-mail to a friend

All About Mir Hossein Moussavi • Mahmoud Ahmadinejad