TEHRAN, Iran (CNN) -- Iran stepped up allegations Monday against the West of "meddling" in its disputed presidential election even as its election authority reportedly acknowledged that the number of ballots cast in dozens of cities exceeded the number of eligible voters in those areas.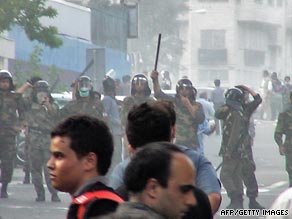 Image obtained on June 21 shows Iranian riot police blocking protesters on a Tehran street June 20.
Speaking to reporters, Foreign Ministry spokesman Hasan Qashqavi alleged that foreign media organizations, such as CNN and the BBC, were mouthpieces of their respective governments that were exaggerating reports of police clashes with protesters who have demonstrated daily since the June 12 race.
He also said that government-run news sites, such as the Iranian Student's News Agency, had been hacked in recent days and implied foreign outlets were behind it.
"Isn't it a cyber war of the media with an independent government?" Qashqavi said. "They ask people to use the DOS (denial of service) system to hack our Web sites."

Watch more about Iran's female protesters »
Denial-of-service attacks make it difficult for users to access a Web site, either temporarily or indefinitely.
Qashqavi's comments came a few hours after government-funded Press TV said Iran's Guardian Council -- which approves all candidates running for office and verifies election results -- said excessive ballots were found in 50 cities.
But, said council spokesman Abbas-Ali Kadkhodaei, voting in those locations did not noticeably affect the outcome of the election.
The council declared incumbent President Mahmoud Ahmadinejad the winner of the election with 62.63 percent of the vote. His closest rival, Mir Hossein Moussavi received 33.75 percent, surprising many experts who expected him to win.

Watch more on Iran's criticism of the West »
Moussavi rejected the election as fraudulent and has demanded a new one. Since then, tens of thousands of Iranians echoing the call have taken to the streets daily -- sometimes engaging in violent clashes with police and Ahmadinejad backers.
On Sunday, thousands of riot police and militia lined Tehran's streets as large crowds marched through thoroughfares shouting, "Don't be afraid. We're together!" and "Death to the dictator!"
There were no immediate reports of violence, unlike on Saturday, when hospital sources said 19 people were killed in clashes. Press TV confirmed 13 fatalities, while unconfirmed reports put the number as high as 150.
The station also said police arrested 457 people Saturday who vandalized property. Tehran's prosecutor general's office said it had launched an investigation into the killings.
Moussavi has called on Iranians to "exercise self-control," while still supporting their right to demonstrate.
"The country belongs to you. The revolution and the system is your heritage," a statement attributed to Moussavi said on the candidate's Web site. "Protesting against lies and cheating is your right. Be hopeful about regaining your rights. Do not allow anyone who tries to make you lose hope and frighten you, make you lose your temper."
CNN has not been able to verify the authenticity of the site.
Though Moussavi supporters on social networking sites have accused police of brutality, Tehran police Chief Maj. Gen. Azizollah Rajabpour told Iran's semi-official Mehr news agency that officers do not have permission to use firearms when confronting protesters.
Allegations to the contrary were false and "spread by those who want to muddy the waters," Mehr said.
The foreign ministry spokesman leveled the same allegations, saying the West and its media were sowing discord in Iran.
The government has restricted international journalists from covering the rallies.
On Sunday, the BBC said Iran had expelled Jon Leyne, its permanent correspondent in Tehran. And the Tehran bureau of the Dubai-based Arab satellite station Al-Arabiya was ordered closed, the station said.
Qashqavi, the foreign ministry spokesman, said lawmakers were meeting Monday to discuss how to respond to foreign tampering.
"There is a heated debate in parliament right now," he said. "We will take necessary steps regarding the West's interference." Also Sunday, the daughter of former President Ali Akbar Hashemi Rafsanjani was released after her arrest while taking part in a protest.

Rafsanjani is chairman of the Assembly of Experts, which is responsible for appointing or removing Supreme Leader Ayatollah Ali Khamenei.
Rafsanjani supports Moussavi, while Khamenei remained staunch in his defense of Ahmadinejad.
E-mail to a friend

All About Ayatollah Ali Khamenei • Mahmoud Ahmadinejad • Iran • Facebook Inc.