(CNN) -- In a news conference Monday in Tehran, Iran's Foreign Ministry spokesman Hassan Qashqavi made some accusations about western media outlets.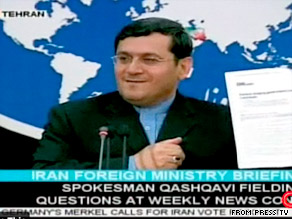 Iran's Foreign Ministry spokesman Hassan Qashqavi accused Western media outlets of targeting Iran.
Qashqavi accused "everyone working" at the BBC, the Voice of America and CNN of pursuing the "weakening of Iran's unity" and seeking the "disintegration" of the country all because, he said, of ties to Israel and Zionism.
In addition, Qashqavi specifically claimed that CNN "officially" trains people to "hack government and foreign ministry" Web sites.
He cited a CNN.com story about how protesters used a technique against the Web site of Iranian President Mahmoud Ahmadinejad.

"This is the CNN's schedule. They officially trained the people to come and hack Iran's government Web sites. This is the English text, I can give it to you. This is a cyber war. This, with, isn't it a cyber war of the media with an independent government? They asked people to use the DOS system to hack our Web sites," Qashqavi said.
In response, CNN released this statement: "The accusations are completely false. CNN stands by its comprehensive coverage of the Iranian election and the protests that followed. CNN has been and will remain committed to continuing its efforts to bring news from Iran to the world in whatever way it can. The images and events coming in from Iran speak for themselves. CNN is beholden to no government in its reporting."

Watch CNN refute Iran's claim »
E-mail to a friend