TEHRAN, Iran (CNN) -- Iranian Foreign Minister Manouchehr Mottaki on Sunday disputed allegations of ballot irregularities in the presidential election, calling the possibility almost nonexistent.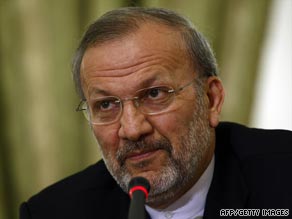 Iranian Foreign Minister Manouchehr Mottaki says the possibility of vote rigging is almost nonexistent.
Speaking to foreign diplomats in Tehran, Mottaki said an investigation into claims of fraud in the June 12 election would be announced by week's end.
"The possibility of organized and comprehensive disruption and irregularities in this election is almost close to zero given the composition of the people who are holding the election," Mottaki said.
He blamed Britain for interfering in the elections, saying it had been planning against the vote for more than a year.
"We witnessed an influx of people from the UK ahead of the election," he said, without offering specifics.

Watch how unrest in Iran turned violent »
Mottaki accused Britain of supporting followers of the Baha'i faith, a religion that originated in 19th-century Persia but which Iran does not recognize.
Don't Miss
British Foreign Secretary David Miliband said Mottaki is trying to turn an internal dispute into a battle between Iran and other countries.
"I reject categorically the idea that the protesters in Iran are manipulated or motivated by foreign countries," he said in a statement.
Mottaki also said the West expected a different model of democracy from developing countries. iReport.com: Share images from Iran

He brought up Kenya as an example where a power-sharing deal was implemented after a disputed election, and Zimbabwe where President Robert Mugabe was re-elected in a race that many countries said was rife with irregularities.

See images of the clashes Saturday »
"Our understanding of election rules is that one who secures the majority of the votes wins," Mottaki said. "Regarding developing countries, will democracy assume a new definition?"
E-mail to a friend

All About Iran • Manouchehr Mottaki • United Kingdom