(CNN) -- British authorities have identified two bodies recovered in Iraq, saying Sunday they are "highly likely" to be those of two British men kidnapped two years ago in Baghdad.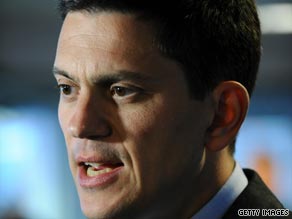 British Foreign Secretary David Miliband has expressed his sympathy for the families of the victims.
Based on "strong indications," the bodies are those of Jason Creswell, originally from Glasgow, Scotland, and Jason Swindlehurst, originally from Skelmersdale, England, the British Foreign Office said in a statement.
Iraqi authorities discovered the remains of the two bodies and handed them over to British authorities, the Foreign Office said Saturday.
Creswell and Swindlehurst were among five British men kidnapped from an Iraqi finance ministry in Baghdad in May 2007.
"Foreign Office officials are in close contact with all the families," the statement said. "Our thoughts are with them at this sad time, and we ask that the media allow them privacy to deal with this news. We continue to do everything we can towards the safe release of the other hostages."
British Foreign Secretary David Miliband had earlier described the finding of the bodies as a "very distressing" development.
Four of the men worked for Canadian-based security firm GardaWorld, according to the company. They were protecting the fifth Briton, a computer analyst with U.S.-based BearingPoint.
The only identified captive until Sunday had been Peter Moore, who said his name in a video released by the kidnappers.
The condition of the remaining three hostages was not known.
E-mail to a friend