TEHRAN, Iran (CNN) -- Protesters in Tehran told CNN of violent confrontations between police and those who sought to demonstrate Saturday against last week's disputed presidential election.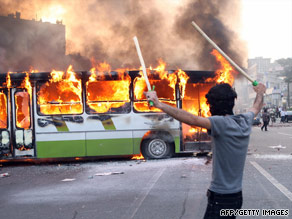 A demonstrator exults Saturday as flames consume a bus on a street in Tehran.
One woman, Shahnaz, said that riot police pushed her and about 300 people back with batons and water hoses as they were trying to reach Tehran's Revolution Square late Saturday afternoon.
She is only being identified by her first name out of concern for her safety.
Another witness, an iReporter whom CNN is only identifying as Parvin, said he saw an old man who had been shot in the head.

Watch violent clashes in Iran »
CNN cannot confirm the veracity of these and other reports because of restrictions the Iranian government has placed on international media.
Shahnaz said after she and the group of 300 others tried a second time to go to Revolution Square, they were blocked by a row of police with their shields up along Keshavarz Boulevard, near where it enters Vali Asr Square in central Tehran.
In response, the group simply sat on the ground, with the front row up against the police, Shahnaz said.
She said she saw two helicopters hover above the group, and then police broke up the group with tear gas. She coughed often as she spoke to CNN and said her face had been "burning."
People ran from police then, she said, and those in the front of the group were hit "badly with batons."
As they fled from police, about 10 people fell into a canal, she said. It was not immediately clear whether any were injured.

See images of the violence »
"We wanted to keep the flame going," she said. "If we don't have our rights back, I will leave Iran. I will no longer stay here, because things will be worse than before."
"The word of [Iran's supreme leader, Ayatollah Ali] Khamenei had no meaning for us anymore," she said. "That's why we all went today."
On Friday, Khamenei called for an end to the protests.
Khamenei also declared last week's election a "definitive victory" for President Mahmoud Ahmadinejad, and he rejected allegations of vote-rigging.
"We chanted against Khamenei, something that we feared to do [in] the days before," iReporter Parvin wrote to CNN.
"But after what he said yesterday, I think all of us were too furious to think of any consequences," he wrote. He said protesters tore down a picture of Khamenei on one street and shouted "Death to Khamenei."

Watch as chants and gunshots are heard »

He too said he saw a helicopter above protesters, and also tanks on the streets. The Basiji pro-government militia and the Iranian Revolutionary Guard Corps had surrounded Revolution Square, he said.
The guards forced several men and women to sit on the sidewalk, he said, and threatened to kill them. He also said he saw troops spray red paint on protesters to identify them later.
E-mail to a friend

All About Iran • Protests and Demonstrations • Iranian Revolutionary Guard Corps