TEHRAN, Iran (CNN) -- In at least one incident Saturday, police wavered in their resolve to break up demonstrators who had turned out to protest last week's election results, a witness told CNN.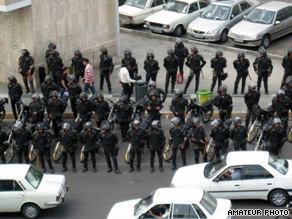 Police were not always on the offensive, and sometimes fell back during confrontations, one reporter said.
"The commander was shouting at the protesters," said Roger Cohen, a columnist for the New York Times, who came upon perhaps a dozen police who had faced off against a number of demonstrators at about 5 p.m.
"The commander was shouting at the protesters, one of whom had thrown a rock at him," Cohen said. "What he was saying was, 'I have a family, I have children, I have a wife and I don't want to beat you so please, please, please go home.'"
In other cases, Cohen said, he saw other police units "just standing around."
He said the most violent groups appeared to be the elite black-clad riot police and the plainclothes Basiji militia, whom he saw "beating protesters, including women, with sticks, with truncheons. I saw women staggering off the main street clutching their faces. I saw a young man who had been hit with what he said was a baton with an electricity shock."
The young man had collapsed on the floor and his leg was being massaged by a friend, Cohen said.
Throughout the day, the modus operandi against protesters was "large phalanxes of police coming forward and beating people," he said.
But the police were not always on the offensive, he said. "I also saw units retreating before the rock- and stone-throwing crowds."
He added, "My own feeling was that the police, in general, to some degree, at least some units of them were wavering."
During continuous clashes he witnessed Saturday, Cohen said he saw a great deal of violence directed against many of the tens of thousands of demonstrators who had taken to the streets, though he did not hear gunfire until night fell.
Instead, the violence appeared to be meted out with batons, sticks, water cannon and tear gas, he said.
"It was extraordinary defiance from the people on the streets," he said. "The forces arrayed against them were enormous. There were militia of various kinds."
He described the situation in the street as "extremely tense."
He said he saw a great deal of solidarity expressed toward the protesters by Tehran residents -- some of whom honked their car horns and flashed their fingers in a V for victory -- a symbol of the camp of opposition candidate Mir Hossein Moussavi.
But Cohen said he saw fewer people on the streets Saturday than he had seen earlier this week. "People are risking their lives if they go out," he said. "They are seriously putting their lives on the line."
E-mail to a friend

All About Civil Unrest • Iran