LONDON, England (CNN) -- Britain's Foreign Office summoned a senior Iranian diplomat over comments made Friday by Iran's supreme leader, Ayatollah Ali Khamenei, a Foreign Office spokesman said.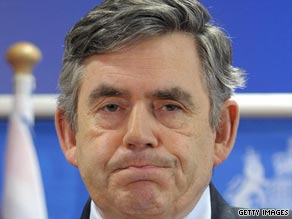 Gordon Brown has urged Iran to respect its people's basic human rights.
Charge d'Affaires Safar Ali Eslamian Koupei was told by a senior official that "Iran's Supreme Leader, Ayatollah Khamenei's comments about Britain were unacceptable and not based on fact," the spokesman said.
The Foreign Office had originally summoned the Iranian Ambassador to Britain, Rasoul Movahedian, but he was not in the UK.
Khamenei addressed a crowd at Tehran University in a sermon during Friday prayers. He passionately defended the outcome of last week's presidential election, but he also criticized the United States, Britain and Israel for manipulating and undermining the process.
"Their enmity toward the Islamic establishment -- they are showing this," Khamenei said. "The most treacherous is the government of Britain."

Watch Khamenei dismiss claims of fraud »
The crowd then chanted, "Down with the UK Death to the UK."
British Prime Minister Gordon Brown, speaking after a meeting Friday afternoon in Brussels, Belgium, did not respond directly to Khamenei's remarks but instead urged Iran to respect its people's basic rights.

See where protests have taken place »
"What we want is to have a good relationship with Iran in the future, but that depends on Iran being able to show to the world that its elections have been conducted fairly and that there is no unfair suppression of rights and of individuals in that country," Brown told a news conference.

Read about Iran's power structure »
"I believe it's right for us to speak out for human rights, to speak out against repression, to speak out in condemnation of violence, to speak out where a free media is prevented from doing its job, and we will continue to do it," he said. "But we are not the only country who is speaking out. The whole of the world is speaking out."

Brown said the international community was not trying to dictate the outcome of the vote -- just urge Iran to demonstrate it was fair.
"We want Iran to be part of the international community and not to be isolated," he said.
E-mail to a friend

All About Ayatollah Ali Khamenei • Iran • Mahmoud Ahmadinejad • Mir Hossein Moussavi • University of Tehran • Tehran • Ayatollah Ruhollah Khomeini