TEHRAN, Iran (CNN) -- Iranian presidential candidate Mir Hossein Moussavi told followers Monday he will "pay any cost" to contest the country's presidential election results, but said he had little hope his challenge would succeed.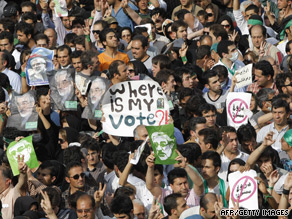 Iranian opposition supporters protest in Tehran on Monday in the largest demonstrations there in 30 years.
Moussavi made his first public appearance since Friday's vote during a massive rally in central Tehran.
The official results showed incumbent President Mahmoud Ahmadinejad winning with more than 62 percent of the vote, and Iranian Supreme Leader Ayatollah Ali Khamenei -- the true leader of Iran -- has given his blessing to the outcome.
Moussavi has alleged fraud and filed a complaint with Iran's Guardian Council, which oversees elections, but he said the council had not remained neutral in Friday's vote.
"I don't have any hope in them," he said in a statement posted on his campaign's Web site Monday evening.
The fraud complaints will be looked into by the Guardian Council, which is made up of top clerics and judges. The council is expected to issue its findings within 10 days.
An Iranian official who asked to remain unidentified said allegations the Guardian Council was in Ahmadinejad's corner are "unfair and unfounded."
In the United States, President Obama said Monday he was "deeply troubled by the violence I've been seeing on television" in Iran. "I think that the democratic process, free speech, the ability of people to peacefully dissent -- all those are universal values and need to be respected."
Don't Miss
"We respect Iranian sovereignty and want to avoid the United States being the issue inside of Iran," Obama told reporters at the White House.
Obama did not take a position on the claims of election fraud. But he said, "The Iranian people and their voices should be heard and respected."
"Whenever I see violence perpetrated on people who are peacefully dissenting, and whenever the American people see that, I think they are rightfully troubled," he said. "I think it would be wrong for me to be silent about what we've seen on the television over the last few days."
In Tehran, Moussavi surfaced in a sea of protesters who flooded Azadi -- "Freedom" -- Square on Monday, wearing an open-neck striped shirt and waving to supporters. Iran's Press TV reported hundreds of thousands of people attended the rally.

View images of unrest in Tehran's streets »
Though the event, the largest protest in Iran since the 1979 revolution, was largely peaceful, at least one person was reported to have been shot to death near its end. Demonstrations continued into Monday night, with Moussavi's supporters taking to rooftops to chant "God is great" -- an echo of the 1979 revolution that established the Islamic republic.
Parisa Hatami, who attended Monday's demonstration, said the calls lasted for about half an hour.
"This was what people were saying 30 years ago during the Islamic Revolution," she said. "Today, we used those words against the government."
Moussavi, in his statement, called on authorities to stop attacks on his supporters by police and Ahmadinejad's supporters, and he urged his followers to continue demonstrating peacefully.
"You are not breaking glass," he said. "You are breaking tyranny."
Iran's Press TV reported hundreds of thousands of people attended the rally, and Hatami said the crowd stretched down one street for nearly 8 kilometers (5 miles). The streets "were full of people who never, ever, come to demonstrations in Tehran," she said.
"Everybody knows we've been cheated," she said. "This regime, it's like they're just playing with us." She said it was "impossible" that Ahmadinejad would have racked up the totals in the official results, which she called "a big lie."
"They tell everyone, 'You don't understand, and you are nothing.' That's the matter," she said. "What is eating me is that they think we know nothing."
Hundreds of riot police were deployed at the edge of Monday's march, but did not intervene. However, Press TV reporter Amir Mehdi Kazemi said he heard gunshots at the rally and at least one person, a boy, appeared to be injured by the gunfire.
"A number of people started shooting, I heard a couple of gunshots, and then this resulted in a number of people ... yelling at that particular building," Kazemi said in his report on the government-funded TV station. "The police have not shown any involvement in this issue right now. The people are running."
A photographer for another news agency reported one person had been shot and killed. A photograph from that agency, which aired on CNN, showed a man apparently lying dead on the street with a large amount of blood around him from a gunshot wound to the head. Another man squatted over him, his arms outstretched.
The news agency has not linked the photograph with the photographer's report, however. And another photograph showed a man who appeared to have been shot in the abdomen; he is alive and being carried from the scene.

View timeline of Iraq's modern history »
CNN could not independently confirm the reports.
Moussavi and the other two defeated candidates, Mehdi Karrubi and Mohsen Rezaie, have reportedly been invited to the Guardian Council on Tuesday to discuss any concerns over the election results.
In his Monday statement, Moussavi told supporters, "The election fraud was obvious, and I will pay any cost to realize the ideals of the Iranian nation."
Amateur video from Monday's demonstration showed people clapping their hands over their heads -- but there was little or no chanting of political slogans among the marchers, and demonstrators quieted anyone who tried to shout, because the Interior Ministry has banned political demonstrations.

Watch report on latest violence in Iran »
The rally was a repeat of a march that Moussavi supporters staged Wednesday, before the election. Many of the participants wore green, a color traditionally associated with Islam that Ahmadinejad opponents have adopted as their own.
Ahmadinejad was declared the winner of the election by a margin of 2-to-1, surprising many experts who had expected Moussavi to win. But Kaveh Afrasiabi, a political scientist who supports Ahmadinejad, said the incumbent's widespread support in rural areas and small towns was the reason for his victory.
Ahmadinejad is "populist" who favors "redistributive justice" and "pays keen attention" to rural areas and small towns, where 75 percent of Iran's voters live, Afrasiabi said.
Moussavi may have won in the capital, "but he lost in the provinces, and that's something they have to come to terms with," Afrasiabi said.

See images from protests around the world »
There have been several violent incidents blamed on groups of Ahmadinejad supporters. Armed with clubs, metal batons and baseball bats, men in motorcycles reportedly combed through streets and alleys for protesters Sunday, chasing and beating them.
On Sunday, a family that lives in a high-rise apartment near Moussavi's election headquarters in Tehran reported that their building was attacked by militiamen. Photos show damage to the building and nearby vehicles. A relative of one of the residents, who did not want to be identified, said the attack happened after people inside the building shouted "Dictator!" and "Allah o Akhbar," or "God is Great," from the windows.
Protests have also been held in cities including Washington; London, England, and Toronto, Ontario, while tens of thousands of others championed the demonstrations on social-networking Web sites.

Watch protests in London »

Iranian authorities closed Al-Arabiya's Tehran bureau for a week without explanation, the Arabic network said on Sunday. Two reporters were attacked outside Moussavi's headquarters on Friday, according to Reporters Without Borders, the France-based media rights group.

Watch report on beaten journalists »
Reporters for an Italian station, RAI, and for Reuters were beaten by police in the capital, Tehran, the group said, and a CNN producer was hit with a police baton.
E-mail to a friend

CNN's Christiane Amanpour and Samson Desta in Tehran, Brian Todd in Washington and Jason Hanna in Atlanta, Georgia, contributed to this report.
All About Iran • Mir Hossein Moussavi • Mahmoud Ahmadinejad