From Jomana Karadsheh
CNN





BAGHDAD, Iraq (CNN) -- A 15-year-old boy shot and killed a prominent Sunni Arab parliament member and killed three more when he tossed a hand grenade into a Baghdad mosque on Friday, an Interior Ministry official said.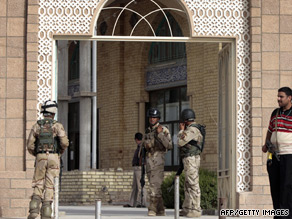 Iraqi security forces stand guard outside a Baghdad mosque following the attack on a prominent lawmaker.
The lawmaker has been identified as Hareth al-Obaidi, the head of the Iraqi Accordance Front bloc and deputy head of parliament's Human Rights Committee.
The incident comes as the U.S. military last week warned about an increase in the use of children by insurgents to carry out suicide bombings and other attacks. It has drawn widespread condemnation across sectarian and political lines and Prime Minister Nuri al-Maliki has ordered an investigation.
The attacker opened fire on al-Obaidi and a member of his security detail outside al-Shawaf Mosque in the Yarmouk neighborhood after Friday prayers. A security guard was also killed, the official said.
Then the attacker hurled a hand grenade at worshipers inside the mosque, killing three more people and wounding 12 others. The assailant, who was traveling on foot, died in exchange of fire with the mosque's guards.
Another ministry official said the attacker used a gun with a silencer and both men were instantly killed. Silencers have been used in many targeted assassinations in Iraq.
Salim Abdullah, the spokesman for the Accordance Front, confirmed the assassination but said he didn't know who was behind the attack. He said al-Obaidi was occasionally an imam and would occasionally hold Friday sermons.
The attack occurred a day after al-Maliki warned of an increase in political violence in the country, mentioning the deadly bombing earlier in the week in the southern town of Bathaa.
He said there will be attempts to undermine Iraqi security forces as U.S. combat troops complete their withdrawal from Iraqi cities by the end of the month and ahead of upcoming national elections.
The U.S. military last Saturday issued a news release focusing on the recruitment of teens by insurgents.
Maj. Warren Sponsler, the operations officer for 1st Battalion, 8th Cavalry Regiment, 2nd Brigade Combat Team, 1st Cavalry Division, based near Hawija in northern Iraq, says he believes teenagers are being recruited by insurgents to commit the attacks.
That release cited an incident in which a teen-age boy hurled a grenade at U.S. soldiers and Iraqi police in Hawija -- a town near Kirkuk in Tameem province.
"The grenade failed to detonate, and the suspect fled into the mix of local shops, but the incident is part of a growing trend of children carrying out attacks on Iraqi security and U.S. forces in the province," the release said.
Other incidents were cited as well in the Kirkuk and Hawija areas and the military said four members of a group believed to recruit youths were arrested in April in Kirkuk
"To endanger children with acts of terrorism is despicable," said Lt. Col. Hugh McNeely, the deputy commander of the 2nd Brigade Combat Team, 1st Cavalry. "But when terrorists actively recruit them to risk their lives for goals that the child probably doesn't even understand is evil. There's just no other way to say it."
Maj. Charles Assadourian, the intelligence officer for 2nd Brigade Combat Team, 1st Cavalry said young people were being taught to elude being detected during insurgent activities. They were also being trained in suicide bombing, he said.
Chief Warrant Officer Two Michael Hyatt,, the 2nd Brigade Combat Team 1st Cavalry fusion chief, said such groups are exploiting the reality that children don't attract attentions and soldiers don't want to hurt them.
Other violence ripped through two neighborhoods of eastern Baghdad on Friday.
At least two civilians were killed and 10 others wounded Friday morning in a roadside bombing, an Interior Ministry official said. The explosive was left near a shop in the predominantly Shiite district of New Baghdad.
A roadside bomb targeting a U.S. military patrol wounded two Iraqi civilians in Mashtal, according to the same official.
E-mail to a friend

All About Iraq • U.S. Armed Forces