Fareed Zakaria is a foreign affairs analyst who hosts "Fareed Zakaria GPS" on CNN at 1 and 5 p.m. ET Sundays.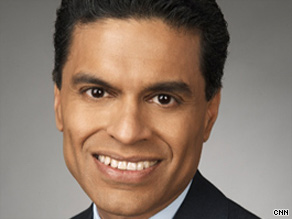 Fareed Zakaria says President Obama's speech in Cairo was a success but he should have addressed Iraq more.
(CNN) -- President Obama delivered his long-awaited and wide-ranging speech Thursday on American and Muslim relations, offering a hand of friendship to Islam and addressing an array of quandaries and conflicts dividing the two cultures.
At Egypt's Cairo University, Obama quoted from the Quran as he expounded on Islam's glories and rights, the legitimate rights of Israel and the Palestinians, Iranian nuclear aspirations, the wars in Iraq and Afghanistan, women's rights, economic development, and religious rights and democracy in the Muslim world.
The address, billed as a fence-mending mission between the United States and Islam, urged those present and the people across the globe viewing the speech on television to enter a new, productive and peaceful chapter in their relationship.
Foreign affairs analyst and author Fareed Zakaria spoke to CNN about President Obama's speech.
CNN: Do you think President Obama's speech in Cairo was a success?
Fareed Zakaria: Yes. This is what President Obama does very well. Take two points of view -- communities or groups of people who look at the world differently and then build a bridge. And build that bridge without doing any disservice or disrespect to either side and to either's world view.
He's done this with whites and blacks in America, with liberals and conservatives -- and now of course on a global scale he's doing with the world of Islam and broadly speaking the rest of the world.
CNN: What was particularly resonant in his speech?
Fareed Zakaria: GPS
See how Obama and the US can build upon his speech in Cairo on this week's "GPS"
Sunday 1pm and 5pm ET

Zakaria: The way in which President Obama was able to use the symbols and symbolism of Islam and his familiarity with it was very powerful. He was able to convey to the audience and to the world that he knew Islam and understood it.
He talked about generations of his family being Muslim, he talked about the Azzan, he said "Assalam-o-alaikum" translated as "Peace be upon you." He quoted the Quran. All these might seem small things to people in the West but they resonate powerfully because they send a signal -- that "I understand you."
CNN: Does it really mean that much to "be understood?"
Zakaria: Yes. Think about it. For so long the rest of the world has been forced to understand the West, and here he was trying to convey that he as a leader of the West understood the rest of the world as well.

Watch Fareed and his guests analyze Obama's speech »
CNN: Enough feel good stuff -- what about the substance of the speech?
Zakaria: Well that was there too. What was most striking about the speech from a substantive point of view, was of course the way in which he dealt with the Israeli-Palestinian issue. Most presidents get to this issue in the sixth or seventh year of their term when they are hoping for the Nobel Peace Prize or legacy.
Obama has gotten to it just months into his presidency. He talked about it fairly and honestly. He was tough on Palestinian terrorism but equally tough on Israeli settlements.
Don't Miss
CNN: His comments on the Israeli settlements seemed to be new direction for an American administration. Would you agree?
Zakaria: It is something of a departure from the last decade of American foreign policy. It is an energetic effort to get the Israelis to stop the settlements because they make it very difficult to negotiate peace.
He was very eloquent in his defense of Israel and the Holocaust. I think no fair-minded Israeli could feel slighted. However, there was an insistence that the settlements stop and that was a notable from a policy point of view.
CNN: Anything else strike you substantively from the speech?
Zakaria: Yes -- Iran. Benjamin Netanyahu, the prime minister of Israel, had come to the White House hoping to get Obama to understand that Iran was at the center of all problems in the Middle East.
In this speech Iran is not framed in that manner. It only is discussed in reference to the need for nuclear-free Middle East, and even in that context, Obama talks about the legitimate right of Iran to have a nuclear capacity -- a civilian one, not a military one.
So all in all, de-emphasizing the idea that Iran is the great danger and great threat to regional peace or global peace: I don't think that Prime Minister Netanyahu will be happy.
CNN: Anything missing from the speech?
Zakaria: Something did strike me. In a strange way, the one place that Obama could take the most concrete actions that would change the dynamics within the Arab world and change America's image in the Muslim world is Iraq.
President Obama has the opportunity to create facts on the ground that will change the dynamics of politics in a major Arab nation.
Move a country from a repressive dictatorship which breeds extreme and violent opposition to democracy. He can present a model of an American engagement with a free Arab country that is productive, mutually beneficially and peaceful.

Iraq is somewhere President Obama has enormous control and leverage -- more perhaps that he does on any other issue in the Middle East.
But these are my thoughts. I have gathered an amazing group of people from around the Muslim world and the Middle East to present their perspectives on the speech. You should tune in on Sunday to hear what will surely be a lively discussion.
E-mail to a friend

All About Islam • Benjamin Netanyahu • The Holocaust