JERUSALEM (CNN) -- As President Obama starts his trip to Saudi Arabia and Egypt to mend fences in the Muslim world, editorialists in Israel's news media are percolating with insights over what it means for U.S.-Israeli relations.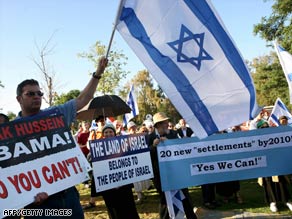 Israeli right-wing activists protest outside Jerusalem's U.S. consulate ahead of Obama's visit to the region.
This comes during disagreements between longtime allies Israel and the United States over two hot-button issues: the presence and growth of Jewish settlements in the West Bank, and the future of a two-state solution between Israel and the Palestinians.
The Obama administration wants a settlement freeze, a move opposed by Israel. And the administration backs a two-state solution, a move that the right-wing coalition government led by Prime Minister Benjamin Netanyahu has never endorsed. Obama is scheduled to make a major speech in Cairo, Egypt, on Thursday designed to improve relations between the United States and the Muslim world.
Touching a chord with Israelis was a recent National Public Radio interview with Obama, whose words have been seen as an omen of a new relationship between both countries.
While Obama underscored U.S. empathy toward Israel's democracy and security concerns in that interview, he also said that "what is also true is that part of being a good friend is being honest.
"And I think there have been times where we are not as honest as we should be about the fact that the current direction -- the current trajectory -- in the region is profoundly negative, not only for Israeli interests but also U.S. interests. And that's part of a new dialogue that I'd like to see encouraged in the region," he said.
An analysis in the daily Haaretz on Wednesday says, "there's no doubt about it: Obama plans to teach Netanyahu about tough love."
"Two weeks after Prime Minister Benjamin Netanyahu's trip to Washington, on the eve of U.S. President Barack Obama's speech to the Muslim world from Cairo, matters are becoming clearer. Israeli-American relations are entering their most serious tailspin in a decade -- the decade since Netanyahu's previous term as prime minister," says the authors, Amos Harel and Avi Issacharoff.
"Bad news from Washington is plaguing the prime minister one piece after another. Immediately after the report that Obama was considering rescinding the United States' almost automatic support for Israel in the United Nations, Obama said the time had come to be honest with Israel. The United States' attitude to Israel so far, he said, had often damaged the interests of both countries," the analysis said.
A Jerusalem Post editorial on Tuesday asked "what useful purpose does it serve to demonize so popular a president, or claim his policies are motivated by animus, when it's hard to discern where they differ substantively from those of his predecessors?"
The editorial said Israel's government "can create a better atmosphere by permanently dismantling unauthorized outposts; reiterating Israel's 'no new settlements' policy, and rethinking the wisdom of refusing to endorse previous Israeli governments' policy on the two-state solution."
The daily's editorial wonders whether Obama can be asked to honor past "understandings" over settlement blocs "reached by Israel with his predecessor " when Israel doesn't honor agreements it reached with Obama's predecessor, a reference to President Bush.
"Once we have taken these steps, we can feel more comfortable about disagreeing with other Obama policies without seeming to be disagreeable," the Post editorial said.
In Israel's largest newspaper, Yediot Aharonot, writer Nahum Barnea cautioned Wednesday against the "almost messianic" aspirations over the Cairo speech Thursday.
"Obama's decision to place the Arab world as the top priority of his foreign policy was not prompted by messianic aspirations, but rather, by constraints. America needs the Arab rulers and Arab public opinion more than ever before."
He makes the point that the United States needs Arab support to properly "extricate itself" from Iraq and Afghanistan.
"Obama is walking a tightrope. As he needs the Arab rulers, he must tone down his rhetoric in respect to democracy and human rights. We see historic irony here: George W. Bush, a rightist Republican who believes in religious values sought to bring democracy to the Middle East. Barack Obama, a leftist Democrat of the ilk American rightists disparagingly refer to as a 'bleeding heart liberal' is wooing the Saudi king and Egypt's perennial ruler," Barnea wrote.
Barnea compares the long-awaited Obama speech to an "opening turn of a play that has not yet been written."
"The question is what will happen in Washington later on, and whether we will indeed see the formulation of a plan that would be able to bring together all the anti-Iranian and pro-American powers in the region, including Israel, into one coalition," he said.
Such an alliance would put the brakes on Iran, save Iraq and Afghanistan, and forge Arab-Israeli peace, the op-ed said.
"Only a messiah would be able to secure all these objectives in the course of one term in office," he wrote.
The daily Ma'ariv wrote that talk of a possible crisis in U.S.-Israeli relations appears overblown, according to a government summary Wednesday of the Hebrew press. Quoting a Washington source, the author says that Obama administration efforts to pressure Israel would be "symbolic" and that "a cut in aid is out of the question."
Yisrael Wolman, in another Yediot Aharonot op-ed, said "bad times are in the offing for us. It isn't clear whether the new U.S. administration's aggressive initiative will promote the prospects of peace in the region, but it will undoubtedly lead us within a short amount of time to an ugly confrontation within Israel."

He said the Israeli government will be forced to remove "illegal settlement outposts," calling that move the "minimum of what common sense dictates."
"Sharon evaded doing so, Olmert tricked his way out of it, but Bibi, who always seems to have bad luck, like gum stuck on the sole of his shoe, is going to have to do it," he said, referring to former prime minister Ariel Sharon and Ehud Olmert and the current prime minister, Netanyahu.
E-mail to a friend

All About Barack Obama • Egypt • Islam • Israel