(CNN) -- In Focus -- Stars of Science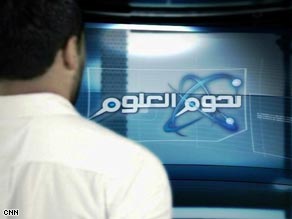 "Stars of Science" begins its search for the Middle East's next big inventor in Qatar this week.
It's the quest to find the region's next pioneer. In the spirit of innovation, this week Qatar launches the 'Stars of Science' TV show.
The show follows a group of young Arab inventors on their journey towards the ultimate prize -- the chance to turn novel ideas into reality. MME goes behind the scenes.
Facetime with Shayne Nelson, Regional CEO, Standard Chartered
As the world economy struggles, the oil rich Middle East countries still have a source of revenue. Oil prices are near six month highs, despite withering demand.
But will the rise in crude be enough to class them as growth economies? MME speaks to Shayne Nelson the Regional CEO at Standard Chartered.
Watch the show this week at the times below:
Friday: 0915, 1945
Saturday: 0645
Sunday: 0815 (all times GMT)
E-mail to a friend