BAGHDAD, Iraq (CNN) -- The Iraqi government released what it said was the confession of a top terrorist leader in the country Monday, nearly a month after the government claimed to have captured him.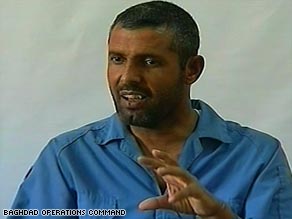 In the video, the man calls himself Ahmed Abed Ahmed Khamees al-Mujamaie.
Government-run Iraqiya TV showed a news conference by Maj. Gen. Qassim Atta, spokesman for Baghdad Operations Command, and a short clip of a man the government says is Abu Omar al-Baghdadi.
The man in the video says that his name is "Ahmed Abed Ahmed Khamees al-Mujamaie," that he "joined al Qaeda in Iraq in 2005" and that the following year, he "became the emir [leader] of the Islamic State of Iraq," an umbrella group that encompasses al Qaeda in Iraq.
He says the goal of the movement was to "separate Sunni and Shia in order to create the birth of the Islamic State of Iraq."
It is not clear when the video was made, and it appears to show only a portion of a longer interrogation.
Two years ago, there were erroneous reports that al-Baghdadi had been captured and killed.
A radical Islamist Web site has denied that the man in custody is al-Baghdadi.
"The news that was announced by the apostate Qassim Atta is false and the picture that they showed on the Iraqi satellite [television] is for someone that we are not aware of," said the statement, which claimed to be from the Islamic Republic of Iraq media center.
The United States military has refused to comment on whether the prisoner is al-Baghdadi, saying the military has not had access to him.
"They believe that, based on the intelligence they have, the statements that they have, the people that have talked to them, that ... they have Omar al-Baghdadi," Gen. Ray Odierno, the top U.S. military commander in Iraq, said of the Iraqis on May 8.
"We have not yet had access to him in order to question him or ask him any questions, so I can't say that our intelligence ... agrees with that. But it's ... mainly because we have not had access," Odierno added.
The United States has not commented on the video shown Monday.
Buhriz City Council officials identified the man shown on TV as Ahmed Abed Ahmed Khamees al-Mujamaie, an agricultural engineer who lives in the town and was head of the council in 2005.
His family was surprised when Iraqi security forces arrested him, and shocked when the Iraqi government announced he was al-Baghdadi.
He is from al-Mujamaie Sunni tribe, they said, and was a sergeant in the Iraqi army under Saddam Hussein.
Buhriz is about six miles (10 kilometers) south of Baquba, in Diyala Province, and about 30 miles (50 kilometers) north of Baghdad.
E-mail to a friend

CNN's Yousif Bassil, Mohammed Tawfeeq and Cal Perry contributed to this report.
All About Abu Omar al-Baghdadi • Iraq