From Elise Labott
CNN State Department Producer





WASHINGTON (CNN) -- The Obama administration is sending two senior U.S. envoys to Syria next week, another sign of warming ties between the two countries, according to U.S. and Syrian officials briefed on the talks.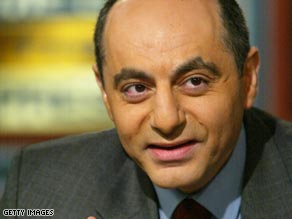 Imad Moustapha, Syria's ambassador to Washington, has met with U.S. officials aimed at establishing areas of cooperation.
Assistant Secretary Jeffrey Feltman, the top State Department official on the Middle East, and National Security Council official Daniel Shapiro will be making their second trip to Damascus in less than two months as the United States seeks to upgrade relations with Syria.
Since his last trip to Damascus in March, Feltman and Imad Moustapha, Syria's ambassador to Washington, have held several meetings aimed at nailing down areas of cooperation. The meetings have been the start of more regular contacts between Washington and Damascus through normal diplomatic channels.
Syrian officials said the meetings in Damascus and Washington have helped the two sides develop common strategies that they now hope to put into action.
U.S. officials briefed on the visit said the talks will focus in part on getting Syria to seal its border with Iraq. Washington has criticized Damascus for turning a blind eye to foreign fighters traveling through Syria into Iraq.
In an interview, Moustapha said his country is willing to address the issue.
"We are committed to helping Iraq become more stable, more secure and more prosperous," he said. "We all want a peaceful Iraq."
Moustapha said he believes the talks will be broadened to discuss all of the bilateral issues between the two countries, but Syria is most concerned about U.S. leadership in Mideast peacemaking.
"How is the United States of America going to address the peace process, and how can we achieve peace despite the Israeli position," he said. "We believe if this issue is addressed then all other issues will be solved."
The United States also wants Syrian support in achieving a comprehensive Arab-Israeli peace, and appears willing to nurture indirect peace talks between Syria and Israel, which began last year, over the disputed Golan Heights.
And the United States has been increasingly interested in getting Damascus to use its influence with Hamas, which Syria views as a legitimate resistance movement and whose leaders take refuge in Syria.
Moustapha said Syria is willing to foster a dialogue between the United States and Hamas, and "cannot imagine making peace" unless the two sides begin talking.
Don't Miss
"The United States cannot make peace without including the major players in the region," he said. "If they want our help, we are willing. But if not, it will become a 'mission impossible.'"
The Obama administration believes engaging the Syrian regime will weaken Syria's strategic alliance with Iran, but Moustapha dismissed the idea and said Syria is willing to be a "channel or bridge" between Washington and Tehran.
"Eventually the United States will need to sit face-to-face with Iran," he said
In another sign of reconciliation, senior administration officials said the United States is close to reappointing an ambassador to Syria. A charge d'affaires currently is the highest-level American diplomat in Damascus.
Eric Boswell, assistant secretary of state for diplomatic security, recently traveled to Syria to examine the security situation there. The United States also is interested in building a new embassy in Damascus
The United States withdrew its ambassador from Syria four years ago, in protest at the assassination of former Lebanese Prime Minister Rafik Hariri.
Washington accuses Syria of being behind the killing of the popular statesman in a massive bombing that also left 22 others dead. Syria denies it, but an ongoing United Nations investigation has found indications of Syrian involvement.
E-mail to a friend