From Jomana Karadsheh and Cal Perry
CNN





BAGHDAD, Iraq (CNN) -- Suicide bombers in Iraq launched two deadly attacks Thursday, killing at least 55 people in Diyala province and at least 28 people in Baghdad, an Interior Ministry official said.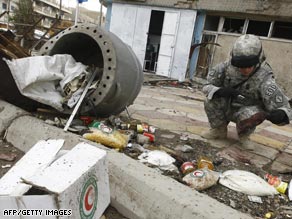 A U.S. soldier looks over debris after a suicide bombing Thursday in central Baghdad.
Four other people were killed in two other incidents, making Thursday the deadliest day in Iraq this year, with at least 87 dead and more than 120 wounded.
A Diyala provincial security official said an attacker set off a suicide vest at a restaurant in Imam Wais, about 70 kilometers, or more than 40 miles, northeast of Baquba, capital of the sprawling Diyala province, which is northeast of Baghdad.
Along with the 55 deaths, 67 people were wounded in the bombing, which targeted Iranian pilgrims, the Interior official said.
The Diyala security official said the pilgrims -- who had been visiting Shiite shrines -- had stopped for lunch at the restaurant when the attack occurred.
All but two of the dead were pilgrims, the official said. The other two were restaurant employees.

Watch details on separate Iraq bombings »
In central Baghdad, a bomber in a suicide vest attacked a crowd of National Police, killing 28 people and wounding 52, the Interior Ministry said. Police were distributing aid to displaced families in the Karrada district, and the casualties were both police and civilians.
Don't Miss
The bomber was female, the Interior Ministry and witnesses said.
Also Thursday, gunmen shot and killed a police officer in the northern city of Kirkuk, security officials said. The incident took place outside the officer's home.
And Thursday evening, the leader of a Sons of Iraq group, also known as Awakening Councils, was killed along with two other members of the group in a bombing northeast of Baquba. The attack took place in al-Adhaim, 60 kilometers (37 miles) north of Baquba, a Diyali security official said. A bomb attached to Mubarak Hummadi's vehicle detonated, killing the three instantly. Seven others, including two children and five Sons of Iraq members, were wounded in the attack.
The Sons of Iraq are U.S.-backed Sunni militias, mostly made up of former insurgents who have turned against al Qaeda. The U.S. military credits these groups with being among the main factors that contributed to a drop in violence across Iraq in recent months. But members and leaders of the councils have been frequent targets of what are believed to be retribution attacks by al Qaeda in Iraq.
Despite the dropping levels of violence in Iraq over recent months, the latest strikes reflect what appears to be a slight uptick of assaults from March to April on civilians, U.S. and Iraqi security forces, and the Awakening Councils.
On Wednesday, five people in Salaheddin province were killed in a suicide bombing, and a police officer was killed in Baghdad in a hand grenade attack. Also, an American soldier died from combat-related injuries while on patrol in eastern Baghdad.
The violence comes as the Obama administration is now working to withdraw American combat troops from the country's urban areas by June 30 and eventually remove all troops from the country by the end of 2011 -- per the security agreement the United States and Iraq reached last year.
However, the top U.S. commander in Iraq, Gen. Raymond Odierno, told CNN on Wednesday that it's possible the Iraqi government may decide to allow boots on the ground in some urban areas past June.
Asked about the two volatile regions of Baquba and Mosul, north of Baghdad, Odierno said he believes troops will withdraw from Baquba, but noted that Prime Minister Nuri al-Maliki will have to make a decision about Mosul, where al Qaeda in Iraq militants have been active.
"We'll see, you know, it's still two months away, so we'll have to see what progress we're able to make, but that will be a joint assessment between us and the Iraqis," Odierno said.
Asked about the recent spike in violence this month, Odierno said the incidents are still as low as they have been. He said there have been a couple of high-profile events this month, but the number of incidents hasn't gone up. He said he is pleased with security progress.
"I don't see any trend of increased violence yet," he said. "I still want to get rid of the al Qaeda capability to conduct high-profile attacks, and we have not yet been able to completely finish that, so we still have some work ahead of us."
Odierno is concerned about the chances of political violence, including the spillover of tensions in northern Iraq between Kurds and Arabs. He urged Iraqi leaders to pursue political negotiations and accommodation.
"I would still like to see political progress," he said.
The attacks came on the same day Iraq's military announced the capture of a top insurgent leader.

The Baghdad Operations Command said Omar al-Baghdadi, head of an al Qaeda-linked umbrella group, was seized in Baghdad during a major military operation.
The U.S. military has not yet confirmed the development. Two years ago, there were erroneous reports that the insurgent figure had been captured and killed.
E-mail to a friend

All About Suicide Attacks • Diyala Province • Raymond Odierno • Iraq