By Tom Watkins
CNN





(CNN) -- A journalist in Iran and two others in North Korea represent a tiny percentage of journalists worldwide who have been arrested for their work, according to the Committee to Protect Journalists, an advocacy group.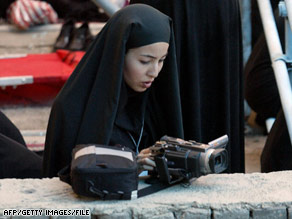 Journalist Roxana Saberi, shown working in Iran in 2004, is accused of spying in the country.
"We counted 125 journalists in jail around the world," said the committee's executive director, Joel Simon, in a telephone interview on Monday. "At least five other journalists are in jail in Iran and perhaps more. There's much less attention on those cases."
The group's annual census, carried out on December 1, counted cases in: Afghanistan (1); Armenia (1); Azerbaijan (5); Bangladesh (1); Burma (14); Burundi (1); Cameroon (2); China (28); Cuba (21); Democratic Republic of the Congo (2); Ecuador (1); Egypt (1); Eritrea (13); Ethiopia (2); Gambia (1); Iran (5); Iraq in U.S. custody (1); Iraq in Iraqi Kurdistan custody (1); Israel and the Occupied Palestinian Territory (4); Ivory Coast (1); Maldives (1); Peru (2); Philippines (1); Russia (2); Senegal (1); Singapore (1); Sri Lanka (3); Uzbekistan (6); Vietnam (2).
The fact that North Korea was not on December's list was no surprise, Simon said. "There's no press to go to jail" there, he said.
The job descriptions of the incarcerated journalists reflect the changing nature of news organizations, with 2008's tally marking the first time that freelancers -- with 45 -- comprised such a large percentage of jailed journalists, he said.
In 2007, 34 of the 127 jailed journalists were freelancers; in 2006, the figure was 31 of 134, he said.
"That's the nature of how news is being gathered now," he said. Such journalists tend to be vulnerable because they typically cannot count on the backing or resources of large news organizations.
Simon called for a global response to the arrests. "This is not just an issue that involved U.S. journalists," he said. "People around the world are pretty concerned about what is happening."
The Iranian court's sentencing of Roxana Saberi on Saturday to eight years in prison for espionage caught the attention of the news media and the public for a variety of reasons, Simon said.

Watch cases that preceded Saberi's in Iran »
The journalist, who has freelanced for National Public Radio and Fox News Channel, "seems, I think, very vulnerable, and there's just an emotional response to her ordeal," he said. "And I think there's a perception that this process has been completely unfair, with a closed trial and this verdict and without her lawyer being able to participate in her defense."
Saberi's case and those of Euna Lee and Laura Ling, who were detained for entering North Korea from China while working on a story for U.S.-based Current TV, also caught the attention of the International Press Institute.
"Iran and North Korea should immediately free journalists who are being used as apparent political hostages in their wider diplomatic disputes with the United States," the 59-year-old advocacy group said Monday in a written statement.
The charges that Saberi faces are "trumped up," said Timothy Spence, IPI's press and communications manager.
"Clearly, this is a case of the government playing politics with a journalist," he told CNN in a telephone interview.
Lee and Ling were reportedly working on a story about the increasing numbers of North Koreans attempting to cross into China. They, too, are "hostages to politics," Spence said.
Referring to the cases in North Korea and Iran, International Center for Journalists President Joyce Barnathan said, "In both cases, we think the journalists are being used as a form of bargaining chip. ... Most of the time, when they arrest journalists, it ends up being some sort of tit for tat, where they want something out of it."
But, she acknowledged, "it's hard to know all the motives."

Still, awareness campaigns sometimes pay off, said IPI's Spence. He cited a campaign in Gambia, where a newspaper editor had been charged with reporting false information. After an awareness campaign, a court threw out the charges.
Similar cases have occurred in Malaysia and Bangladesh, he said.
E-mail to a friend

All About Iran • Committee to Protect Journalists • North Korea