BAGHDAD, Iraq (CNN) -- Iraq's legislative body elected a new leader Sunday in a move that some lawmakers say could pave the way for critical votes on major issues.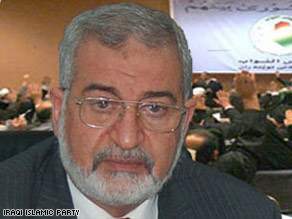 Ayad al-Samarraie, in an undated photo from his party's Web site, was elected speaker of the Iraqi parliament.
The parliament elected Ayad al-Samarraie, a senior member of one the country's top Sunni political parties, the Iraqi Islamic Party.
He won overwhelmingly with 153 votes. The second candidate received 34 votes.
The parliament has been largely paralyzed since December, when the previous speaker was forced to step down. Lawmakers still have to vote on key legislation such as oil and gas law, as well as constitutional amendments.
The role of speaker is designated to an Arab Sunni as part of an attempt to make the government representative of the three main groups in Iraq: Shia, Sunni and Kurd.
Mahmoud al-Mashhadani was forced to step down from the post in December amid widespread criticism over his behavior. Some members of parliament were threatening to push for his ouster if he did not resign.
In February, al-Samarraie won a vote for the position, but there were disagreements over whether there had been enough votes. He took the case to the country's federal court, but dropped it ahead of Sunday's vote.
Al-Samarraie is from the same party as Vice President Tariq al-Hashimi.
E-mail to a friend

CNN's Jomana Karadsheh and Mohammed Tawfeeq contributed to this report.
All About Iraq • Sunni Islam