(CNN) -- President Obama called Sunday for the release of a U.S. journalist convicted of espionage in Iran.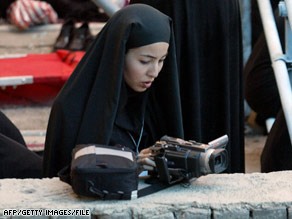 Journalist Roxana Saberi, shown working in Iran in 2004, is accused of spying in the country.
"I am gravely concerned with her safety and well-being," Obama, who was attending the Summit of the Americas, told reporters in response to a question about 31-year-old Roxana Saberi.
"We are working to make sure that she is properly treated and to get more information about the disposition of her case. She is an American citizen and I have complete confidence that she was not engaging in any sort of espionage. She is an Iranian-American who was interested in the country which her family came from. And it is appropriate for her to be treated as such, and to be released."
Obama said his administration will be in touch with the Iranian government through Swiss intermediaries, "and we want to make sure that we end up seeing proper disposition of this case."

Watch Obama express concern for Saberi »
The United States and Iran do not have diplomatic relations.
Saberi was sentenced Saturday to eight years in prison after a one-day trial that was closed to the public. The decision prompted sharp denunciations from political and media officials in the United States and abroad.

Watch as Saberi's dad says she was duped »
Iranian President Mahmoud Ahmadinejad sent a letter Sunday to Tehran's prosecutor calling for justice in the cases of Saberi and another detained journalist, Hossein Derakhshan, state-run news agency IRNA reported.
Derakhshan is an Iranian-Canadian blogger who has been imprisoned in the country since November. Reporters Without Borders, a group that fights for journalists' rights worldwide, says Derakhshan was sentenced to four years in prison for disseminating the views of one ayatollah and for "publicity against the government."
Ahmadinejad's letter called on the prosecutor to "ensure that the accused persons can freely and legally defend themselves," according to IRNA.
CNN Chief International Correspondent Christiane Amanpour said Saberi's case comes after a few high-profile cases in Iran "in which pardons have been forthcoming."
Amanpour cited the Iranian president's pardon of a group of British sailors who were taken in the Persian Gulf area in 2007 and accused of military espionage, She also noted that Haleh Esfandiari, an Iranian-American scholar with the Woodrow Wilson Center in Washington, who had been charged with harming national security while on a visit to her ailing mother in Iran, was released after more than 100 days in detention.
"Clearly these situations point out the extremely fraught nature of relations between the United States and Iran, and President Obama has said that he wants to engage with Iran because he believes that diplomacy will have a better chance than other methods that have been tried to get agreement and resolution on the big issues, such as nuclear disarmament and other such issues."

Watch more analysis from CNN's Christiane Amanpour »
Saberi's father told CNN Sunday that his daughter "has lost weight and she looks frail and weak."
"She says she's not treated harshly," Reza Saberi added. "The food is pretty good and they're not hurting her. So it's just the environment of the prison that's very frustrating."
Reza Saberi said his daughter's lawyer has 20 days to file an appeal.
"Then we will wait for the decision of the next court, the court of appeals, and see what they decide. We cannot do anything until they make a decision."
She is sharing a cell with two other prisoners, he said. The family last saw her Tuesday.
"We tried to encourage her to take care of herself and just hold on while we're working for her release."
Roxana Saberi, who comes from North Dakota, has been living in Iran since 2003, said the Committee to Protect Journalists, a journalists' advocacy group.
She has freelanced for National Public Radio and other news organizations, and was writing a book about Iranian culture.
Iranian authorities revoked her press credentials in 2006, but Saberi continued to file short news items without permission, the journalists' group said.
Saberi was detained in January, although no formal charges were disclosed.
Officials initially said Saberi was held for buying a bottle of wine. The foreign ministry later said she was detained for reporting without proper accreditation.
On April 9, word emerged that Saberi had been charged with espionage.
"Without press credentials and under the name of being a reporter, she was carrying out espionage activities," Hassan Haddad, a deputy public prosecutor, told the Iranian Students News Agency.
Authorities also said Saberi confessed to the charges. Her father said he believes she was coerced into making damaging statements.
"Well, they have used the same tactics in the security prison for the political prisoners to make them confess and it sometimes leads to saying things that are not true just in the hope of getting released from the prison," Reza Saberi said. "Most probably, such tactics were used on our daughter but, again, further investigation is needed."
Reporters wanting to see documents filed in the case were told by the judiciary there was no law permitting them to do so. Saberi's father said he has not seen the files either.
"As far as the evidence, if there is any, it's not reliable evidence," he said. "It's not overwhelming."
The United States has also expressed concern about Esha Momeni, an Iranian-American student who remains detained in Iran.

Earlier this month, at a conference on Afghanistan in the Netherlands, U.S. Secretary of State Hillary Clinton sent a letter to the Iranian delegation asking for information on and the release of Momeni, who was arrested in Iran last October.
Clinton also inquired about Robert Levinson, a former FBI agent who disappeared in Iran in March 2007.
E-mail to a friend

All About Iran • Committee to Protect Journalists • National Public Radio Inc. • Hillary Clinton