From Shirzad Bozorgmehr
CNN





TEHRAN, Iran (CNN) -- The Iranian president on Saturday hailed the nation as "one of the strongest in the region" during a celebration to mark Army Day, according to the semi-official Mehr News Agency.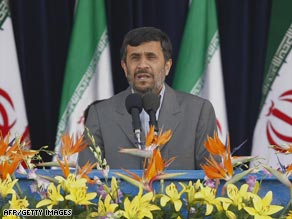 Mahmoud Ahmadinejad delivered his latest speech to mark the country's Army Day.
"Today our nation is one of the strongest in the region and a great part of the world," President Mahmoud Ahmadinejad said, according to Mehr. "And no country dares to threaten it."
Ahmadinejad delivered the speech during a ceremony at the mausoleum of Ayatollah Ruhollah Khomeini, founder of the Islamic Republic, Mehr said. Khomeini led the 1979 revolution that toppled the shah of Iran and helped usher in an Islamic state. He died in 1989.
Army Day pays tribute to the nation's military and showcases its resources.
"Our army uses the most advanced equipment, which safeguards national security and because of its inherent power plays a great part as a deterrent force," Ahmadinejad said.
An aerial display of 140 planes planned for the event was canceled because of bad weather, according to Mehr.
E-mail to a friend