(CNN) -- In Focus -- Israeli Real Estate
Jerusalem may not conjure up images of luxury real estate, but in the last 10 years there has been a flurry of luxury housing construction.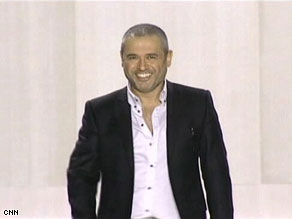 The global financial crisis hasn't spared the fashion indsutry, so how is Elie Saab coping? MME talks money and fashion with the Lebanese designer.
Multi-million dollar purchases for second and third homes became a regular occurrence as American and European buyers invested heavily in Jerusalem's housing market.
But, with their economies now in the dumps, the real estate market here is off by almost 60 percent -- and it is unlikely to get better any time soon. MME takes a look at whether bricks and mortar is still a good investment.
Facetime with Elie Saab, Fashion Designer
Elie Saab started out with a small boutique in Beirut. Today, his creations are worn by Hollywood celebrities. But the global economic downturn hasn't spared the fashion industry, so how is he coping? MME caught up with Saab to speak about these issues, and the fashion industry in Lebanon.
Watch the show this week at the times below:

Friday: 0915, 1945
Saturday: 0645
Sunday: 0815 (all times GMT)
E-mail to a friend