JERUSALEM (CNN) -- Israeli fraud investigators Tuesday questioned Foreign Minister Avigdor Lieberman for a third time regarding a long-standing probe over business dealings, a police spokesman said.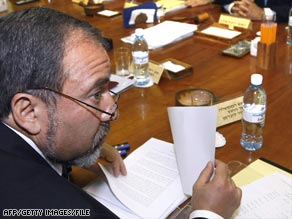 Avigdor Lieberman attended his first Cabinet meeting on April 5.
For five hours, investigators asked Lieberman about suspicions of money laundering, fraud and breach of trust in a corruption investigation that dates back several years, police spokesman Mickey Rosenfeld said.
Lieberman was also questioned by the Israeli National Fraud Investigation Unit for several hours on Thursday and Friday.
The interrogation was "under warning," which means that anything he discloses in the interviews may be used as evidence if he is charged.
The allegations include receiving a bribe via his daughter Michal's consulting firm.
Lieberman denies the allegations and has said they are motivated by politics. His daughter and lawyer also have been questioned by authorities.
"This investigation is going on for 13 years. In today's investigation Lieberman cooperated and answered investigators' questions," Lieberman's spokeswoman Irena Etinger said Thursday.
Lieberman has emerged as a controversial figure in Israel, where his right-wing Yisrael Beytenu movement came in third in recent Israeli elections, behind Likud and Kadima.
Over the years, his comments directed toward Arabs have been slammed as racist.
During last week's handover ceremony to his new job, Lieberman bluntly distanced himself from the Annapolis peace process -- the effort started in 2007 to revive peace talks between Israel and the Palestinians.
Lieberman's predecessor, Tzipi Livni, told Israel Radio that Lieberman had "erased in 20 minutes, years of efforts to advance the peace process" when he declared that Israel was not bound by commitments it made at the summit in Annapolis.
Israelis generally have become frustrated with the peace processes in recent years and have moved to the political right.
That is partly because of the ongoing rocket attacks from Hamas-controlled Gaza on southern Israeli cities that sparked the country's Gaza offensive late last year. Yisrael Beytenu has benefited from that public mood.
E-mail to a friend

CNN's Paul Colsey contributed to this report
All About Israel • Avigdor Lieberman