By Jomana Karadsheh
CNN





BAGHDAD, Iraq (CNN) -- Iraq's federal appeals court has reduced the sentence for the Iraqi journalist who threw his shoes at then-President Bush at a news conference in December, his lawyer said Tuesday.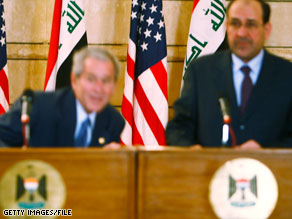 An Iraqi journalist touched off a firestorm when he threw his shoes at then-President Bush in December.
Muntadhar al-Zaidi will serve one year in jail instead of three, the attorney said. Bush was able to duck, and was unhurt in the incident.
Iraq's Central Criminal Court sentenced al-Zaidi to three years in March after he was found guilty of assaulting a foreign head of state on an official visit to Iraq. It was Bush's last visit to Baghdad before leaving office in January.
Judge Abdul Sattar al-Beeraqdar, spokesman for Iraq's Higher Judicial Council, said the court reduced al-Zaidi's sentence because he is young and had no previous criminal record.
The one year includes the time al-Zaidi has already served in jail, the spokesman said. Al-Zaidi has been in jail since immediately after the December 14 incident.
Al-Zaidi's lawyer, Dhiaa al-Saadi, said the appeals court announced its decision to reduce the sentence Monday, after lawyers appealed the criminal court ruling.
Al-Baghdadia TV, where the 30-year-old al-Zaidi worked, has been broadcasting a bulletin announcing the reduced sentence.
Don't Miss
In many traditional Middle East circles, throwing shoes at someone is considered a grave insult.
Al-Zaidi became a kind of hero after his actions, because of Bush's unpopularity, mainly as a result of the Iraq War.
Expressing their freedom on Facebook, a worldwide fan base rose up. Supporters formed hundreds of fan pages and groups, including one called the "Shoe-Throwing Appreciation Society."
E-mail to a friend

All About George H.W. Bush • Iraq War • Middle East